Friday, February 1: My hotel breakfast broke a decent fast of 22 hours and 22 minutes, and that fast began at 9:30 a.m. yesterday morning, which was the earliest I have stopped eating for the day.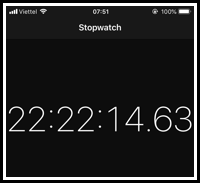 Friday/Saturday (Feb. 1 & 2):Some calories throughout the day while sightseeing: a banana lasse, and a little later a coffee, a banana, and some yogurt. Decided to not pass on dinner. Dessert followed and the fasting clock started again at about 8:15 p.m. Some weights in the morning, and my I've been fasting for 15 hours. Undecided if I'll go much past 16 today. Decisions, decisions. The fast ended up being 17 hours and 22 minutes. Breakfast was an odd combination of a banana, a protein bar, a small smoothie, and a very coffee flavoured mini Kit Kat.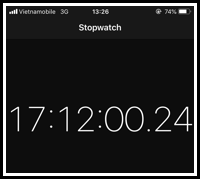 Saturday/Sunday (Feb. 2 & 3):  I snacked a little more later in the afternoon, and I anticipate a decent sized dinner mainly just to be sociable. Well, my friend had to cancel dinner. I realised I wasn't particularly hungry, so I decided to skip dinner and have a big breakfast. I started the fasting clock about an hour after my last snack which was a coffee and thin milo bar. I then walked 14 kilometers later that night. I feel pretty confident I was in a calorie deficit. It's now 1:10 a.m., and I am tired and very much looking forward to breakfast.  I began that big breakfast around 8 a.m.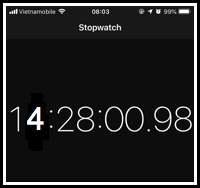 Sunday/Monday (Feb. 3 & 4): I had a naughty rare Mars Bar at 10 a.m. – they're not available in Korea. I started my fasting clock in case I don't eat again today. And I didn't, it was all rather easy in fact.  I just woke up and my fast is now at the 19.5 hour mark. My hotel breakfast starts at 6 or 6:30, and the tour to Ba Na Hills today includes a buffet lunch. I think I think I'll opt for a smaller breakfast and then really enjoy the buffet, assuming it'll be a good one. My hotel breakfast was indeed a little smaller than normal, and it broke a fast of 20 hours and 56 minutes.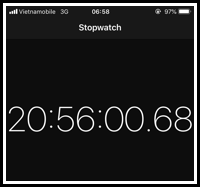 Monday/Tuesday (Feb. 4 & 5): The Ba Na Hills buffet was pretty good, and I didn't go overboard, which is something I used to do at buffets. A hot chocolate and a Vietnamese donut were consumed a little later, and the fasting clock began again at about 2:40. The rest of the day and most of Tuesday morning passed without calories. I decided on a break from my hotel breakfast, but was soon after horrified to learn the cafe where I had planned to eat is closed today because of the Lunar New Year. I then found an open burger joint. Breakfast was begun 20 hours and 10 minutes after yesterday's Vietnamese donut. Two bananas immediately followed that burger.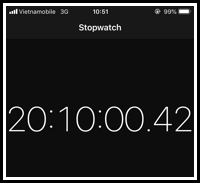 Tuesday/Wednesday (Feb. 5 & 6): Not long after and just before midday, I had a mocha latte before my fasting clock started again. It might be hard to go the rest of the day without eating for social reasons, but it's not out of the question. I didn't end up meeting my friend for dinner, so I can continue my fast until morning. And for the rest of my vacation,  my schedule is totally my own. It's now 7:45 p.m., and I'm sipping on a black coffee as I write this sentence, some others, and do some reading. I'm still here almost two hours later, and once again, I'm not feeling hungry. Sometime soon, I'll try finish breakfast and my eating for the day at around 8 a.m. Not sure that's possible, but it is in theory. But while I'm in Vietnam for the first and perhaps only time, I shouldn't be too bothered if I eat in some of those restaurants that have caught my eye. It's just that breakfast is included in my hotel and it's not at all bad, so when I consider one meal a day, breakfast comes to mind. Eating twice won't kill me nor will skipping that breakfast, which is something I've done a couple of times already. Breakfast was consumed on the second floor of my hotel, breaking a fast of 20 hours and 37 minutes. It consisted of my usual cereal,  2 bananas, yogurt, a small omelette, 2 pieces of toast, and a couple of small cups of coffee.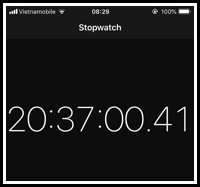 Wednesday/Thursday (Feb. 6 & 7): A little dark chocolate and a hotel room coffee was consumed about twenty minutes later. At 9:13 a.m., the fasting clock started again. The earliest fast time by 17 minutes should it prove to be successful. Today is another cafe (Americano) beach day. It's now almost 7 p.m. and I'm sipping on another Americano. I thought about having dinner, but so far have resisted. I'm also thinking about when to have breakfast: before my 8 a.m. tour starts or later during it. No sense thinking about that now. That's a decision for 7:20 a.m. tomorrow. In other news, I've started writing a post outlining my experiences with intermittent fasting to date as well as earlier failed attempts to lose weight. I'm enjoying writing about the topic. I made it through the day. Its now 6:32 a.m. I slept well. I feel hungry but not overly so. Still, I think it's time to eat. Thus, a 21.5 hour fast was broken. Breakfast was done before 7:15 a.m. I might have a snack a little later.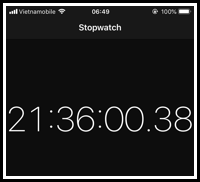 Thursday/Friday (Feb. 7 & 8): I had that snack a little before 9 a.m. Some eight and a half hours later, I realized I just wasn't up for another one-meal day. I had a burger and fries for dinner and then a latte and a Kit Kat for dessert. The fasting clock began again at about 6:10 p.m. That later start ties in well with my plans for a morning workout. The gyms have been closed all week, so I've been looking forward to Friday. Tonight's dinner will mean I exercise in a fasted state which I believe is better for weight loss. Actually, I think I'm nearing my goal weight, but I still want to tone up more. I haven't weighted myself since before my Vietnam trip. I'm quite curious to step on the scales either when I get back to Korea or when I next see a set. Breakfast was just black coffee, and my fast is currently approaching the 15 hour 30-minute mark. It's time to go look for a gym. I have two possibilities. One is within walking distance, and may not be open. Another is a taxi ride away and is open. I ended up walking there.
I had some black coffee in the morning. My fast was broken at 12:51 p.m. with a banana/protein smoothie. The fast was 18 hours and 42 minutes and included quite a lot of exercise and activity before it was broken. In addition to a smoothie bar, the gym I went to had scales which placed my weight at around 78 kilograms. If correct, that would be my lowest weight in decades.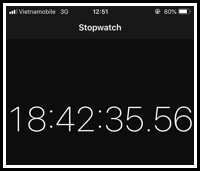 Friday/Saturday (Feb. 8 & 9): My eating window today was around an hour as I returned to pretty much one meal a day. It was quite a meal though: an Aussie burger and a coffee smoothie. My next fast began at 1:54 p.m. Six hours later, I'm in my favourite Da Nang cafe sipping on an Americano. Another black coffee at around 7:30 in the morning. I had planned to grab a couple of delicious bananas from the buffet breakfast, but for the second day in a row, the buffet was bananaless. I decided to save time and hire a scooter rather than walking the 6ish kilometers to my favourite gym in the world. My fast is now just past 18 hours, so by the time I finished exercising and eat, my fast should be close to 20 hours. A post-workout banana and protein smoothie broke a respectable fast of 20 hours and 40 minutes.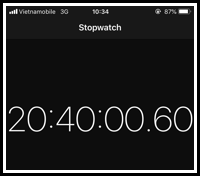 Saturday/Sunday (Feb. 9 & 10): An Aussie breakfast followed soon after, and I couldn't resists having a Mars Bar for dessert, but that should be it for the day. The fasting clock began again at 11:47 a.m. It's now 5:35 p.m., and I'm sipping on another black coffee (iced this time, but I wanted a hot one). Should I make this fast a longer one? It has been a while since I fasted for more than 24 hours. I am flying back to Korea at 1 a.m. on Monday morning, so I have either one or two meals left in Vietnam. Well, this fast has been harder. I felt particularly hungry before bedtime and hungry when I woke up at 3:30 and 5:30. Usually, I don't feel particularly hungry upon waking up. I recorded my lowest weight yesterday – just under 78 kilograms, so I am feeling particularly motivated to go a little longer this fast. Probably no where near 24 hours, but just a little longer. It's now 6:20 a.m., and my fast is at the 18.5 hour mark. My fast was broken after 20 hour and 17 minutes with quite a feast at 5-star hotel's buffet breakfast.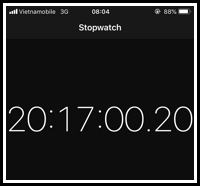 Sunday/Monday (Feb. 10 & 11): I had a coconut and banana drink a little after breakfast. That disappeared down my hatch at 9:08 a.m. local time, 11:08 Seoul time. That should/could be the last calories of my Vietnamese trip. No, it's now almost 6 p.m. and eight hours and 40 minutes after that post-breakfast drink, and I'm hungry. Pretty lazy day at the beach, but I got a lot of sun, so I think it's best to eat and drink. Plus, the thought of going the rest of the night without eating is a horrible one. Good choice, because the coconut banana smoothie I just had was amazing. So I had another. Then a mocha and my last protein bar. All in all, that was two large meals today. I think I ate too much. Perhaps I was too concerned with my schedule tomorrow and fitting my fasting around it, but I should allow myself some leeway, especially when flying.
It's now 8:15 p.m., and I'm packing and getting ready to say goodbye to Da Nang, Vietnam. On th e flight at about 2:30 a.m. local time and 4:30 a.m. on Seoul, I failed to say no to the in-flight meal. That was about 7.5 hours since I had last eaten. It's now 8.5 hours later, and I'm in my office getting ready for my 2 p.m. class. Vacation is over. I'm feeling pretty hungry. I ate as soon as my class finished. The result was a fast of 13 hours and 12 minutes. Much shorter than usual, but I don't mind a change, and flying does mess things up a little. And my last few meals have had been between 7 and 9 hours apart. That hardly happened (except when sleeping ) before I started all this.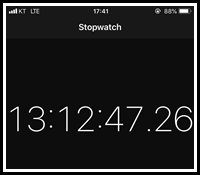 Monday/Tuesday (Feb. 11 & 12): I had a lovely lazy morning full of post waking naps and dreams about kittens and old childhood friends. The result was that when I finally got up and prepared to leave home, my fast was already well past 15 hours. It feels good to be back on track again. I'm having a black coffee now, and then the plan is for a quick cardio session before breakfast and work. And my weight was the lowest ever recorded on my gym scales. My post-cardio breakfast broke a fast of 17 hours and 22 minutes. Breakfast was a chicken avocado wrap, a latte, and a naughty but delicious chocolate brownie with cream. That should be it for today, and the fasting clock began anew at 12:12 p.m. The plan is for a weights session earlyish tomorrow morning before breakfast. That should result in a fast of over 20 hours.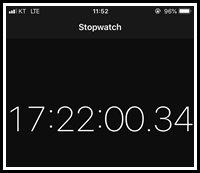 Tuesday/Wednesday (Feb. 12 & 13): That plan went down the tubes with some cereal at about 8:30 p.m. and then a free keto dessert at 10:30 p.m. A little annoyed at myself as I had recorded a record low weight Tuesday morning, but hopefully I'll be back in gear tomorrow. Breakfast was light: a latte and a protein bar. The fast was just 14 hours and 42 minutes, but it at least included a pretty intense weights session near its end.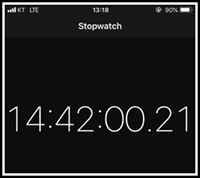 Wednesday/Thursday (Feb. 13 & 14): I had some cereal when I got home from work, and then two free slices of pizza at a local open mic event. Another fast begun quite late at around 10:30 p.m. Breakfast was a mere 13.5 hours later, but it at least followed a cardio session.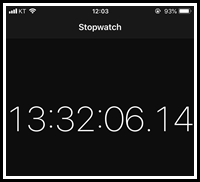 Thursday/Friday (Feb. 14 & 15): A little later at work, I had a protein bar and a small but dense smoothie drink. The fasting clock started at exactly 12:59 p.m. That should be it for the day, and then I'll be back to fasts beyond the 16-hour mark. Actually, I ate again after work. I'll consider this week a little break from longer fasts. I have upped the exercise, so there's that at least. I hope to be back doing longer fasts quite soon. I think I finished eating at about 7:30. Overnight, but stopwatch reset itself. There's a bug that affects the stopwatch when I close the app. when another of its functions is on the app's home screen. In this case it was the sleep countdown timer that turns the music off. Very annoying. Anyway, I worked out in the morning and decided to eat afterwards. It's now 9:35 a.m., so this most recent fast ended just after 14 hours.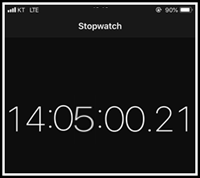 Friday/Saturday (Feb. 15 & 16): I had a protein shake about an hour after breakfast. Dinner plans tonight, so the fasting clock can't start yet. The resulting fast was 14:45. Still shorter than most, but I did run 5.4 kilometers before breakfast.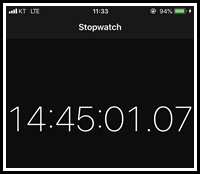 Saturday/Sunday (Feb. 16 & 17): I ate about seven hours later and that was my last food for the day despite later going to a birthday party and spending a few hours in a bar where I played guitar. The morning has arrived and I think I'm on track for a return to longer fasting.  A morning nap helped me get past 16 hours for the first time since Tuesday. Approaching 17 hours and I'm sipping on a black coffee. My fast was broken after 20 hours and 12 minutes with a light breakfast because I have dinner plans. I have to admit it felt good to fast again.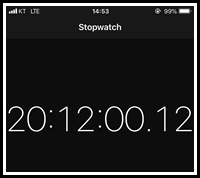 Sunday/Monday (Feb. 17 & 18): My dinner wasn't exactly large, and it was completed by exactly 5 p.m. It's now five hours later, and I'm feeling a little hungry. Tempted to eat, but I want this next fast to be a significant one. The plan is to exercise early in the morning before my 10 a.m. volunteer teaching session. I'm near my weight loss goal, but still want to lose a couple of more kilograms of fat while maintaining and increasing muscle mass. I didn't exercise in the morning, but my fast was a decent one; it was just shy of 19 hours.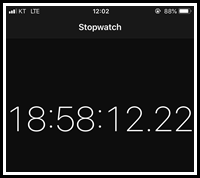 Monday/Tuesday (Feb. 18 & 19): The breakfast wasn't very large, so I had a couple of snacks soon afterwards. The fasting clock began just a few minutes after 1 p.m., but I'm not certain I'll refrain from eating for the rest of the day. A gym session is planned, and I'll see how I feel after that. The gym session was an hour long, and I felt hungry afterwards. A green tea and a long chat with a friend at a cafe took my mind off food. That helped me make it to the morning when breakfast ended another 19-hour fast.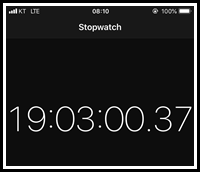 Tuesday/Wednesday (Feb. 19 & 20): The plan is to have one more meal after this afternoon's gym session. That's what happened, and that meal was begun 8 hours and 20 minutes after breakfast was completed. I had no problems making it to bedtime without any additional calories. It's now  just after 10 a.m., I'm sipping on a black coffee, and my fast is approaching 17 hours. I don't feel particularly hungry, but that's not to say I couldn't put away a decent sized meal. I broke my fast at the 20 hour and 23-minute mark after buying some new, smaller clothes.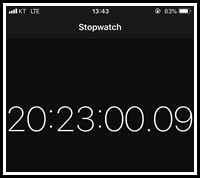 Wednesday/Thursday (Feb. 20 & 21): That breakfast was gradually consumed over 40 minutes, and that should be it for today. The fasting clock began at 2:23 p.m. Twenty hours later, and I'm still going. It's about to end though quite soon. After 20 hours and 31 minutes, I could wait no more.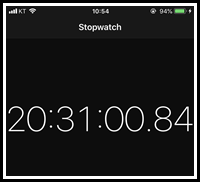 Thursday/Friday (Feb. 21 & 22): Breakfast was completed just before 11:10 a.m. The fasting clock began again, but I may eat again later today. And a couple of hours later I had a kind of dessert consisting of a latte and KitKat. The fasting clock began again at 1:14 p.m., and this time it'll stay on. And stay on it did. I was hungry at night, but buying to American M-sized shirts today that fitted but were a fraction tight helped with my motivation. My fast is now at 18.5 hours and I'm sipping on Americano. This should be at least 20 hours long. The final time was 20 hours and 57 minutes.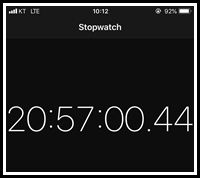 Friday/Saturday (Feb. 22 & 23): I went until about 9 p.m. without eating. I was in a bar and about to play guitar, so I decided to have a few beers and a yummy hamburger. In the morning, I had a smoothie and a protein bar. I'll eat dinner tonight after the speech contest and then resume fasting and exercising. The last calories consumed for the day at about 8 p.m. were in the form of a decadent post-dinner white chocolate latte and a gourmet Kit-Kat.
Sunday/Monday (Feb. 24 & 25): It's now Sunday morning, and my fast is at the 13.5 hour mark, and it feels like I'm almost back on track. Well, I didn't last that much longer, but I wanted to eat before my early afternoon gym session.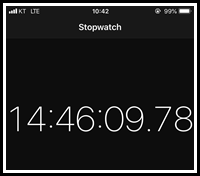 The fasting clock began again at exactly 2:01 p.m. It's now seven hours later, and I'm just about to leave a cafe after a healthy and zero-calorie green tea. Well, I made the mistake of buying a block of European white chocolate. It was meant as a reward for completing a long fast, but the opposite happened and it resulted in me snacking at night, which is a cardinal sin I thought I had removed from my life. It was a fasting failure, but perhaps a timely reminder that my relationship with food isn't entirely fixed and that the fasting regime I hope to continue is a constant battle. Granted, I haven't found it all that difficult, but a set back – putting nice food in my mouth – can come at any moment. With that in mind, I have decided to attempt my longest fast. And I really need to stop buying food that will tempt me, and it should go without saying that the food most likely to tempt me isn't the healthiest. And seriously, that white chocolate was the most amazing thing I have ever eaten.
Monday/Tuesday (Feb. 25 & 26):  I ate breakfast at 6 a.m., which would have been a 16-hour fast if it hadn't been for last night's delicious white chocolate incident. Lunch is provided at work today, so the plan is to make that my last meal before embarking on my longest fast to date. I don't have a set length in mind, but I do want it to my longest to date. That will mean a fast exceeding 26.5 hours.
And I have reason to keep going. The changes in my body have been quite significant. I'm continuing to get complimentary comments, and most recently was someone who met me for the first time. Thus, they had nothing to compare my new body too. And that comment was "You looked jacked". I have noticed that myself in the gym. I recorded my lowest weight recently, and last night, I was look at some photos from last year, and I was surprised to see the changes in my face. So this past weekend should be nothing more than a little bump in the road. And I don't think it hurts to have some small breaks from daily fasting. In fact, I think some people recommend it. Perhaps not with delicious white chocolate though. I'm watching this now to help get me on track and to prepare for the upcoming longer fast.
I finished eating at about 2 p.m. again, and this time I'm determined not to break my fast with white chocolate as I go to bed. I went to the gym after an evening nap, and it's now 1:40 a.m. I figured that a later night will help me in my attempt to make this fast the longest ever. My fast is almost at the 12-hour mark, and there's no chance of me snacking before bed. The resulting fast, while not my longest, was a touch under 24 hours at 23 hours and 40 minutes, my longest for the month and second longest for the year. It was broken with a banana smoothie.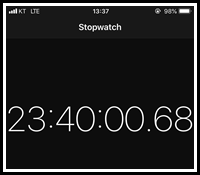 Tuesday/Wednesday (Feb. 26 & 27): My breakfast smoothie was followed about 30 minutes later with a chicken avocado wrap and a latte. My eating for the day was completed by 14:52 when I consumed a protein bar and a glass of milk. My calories today were consumed within a window of 75 minutes. It's now 9:45 p.m. and I'm sipping on a green tea latte after a 12-minute treadmill run. That fast was eventually broken at 8:40 a.m. after 17 hours and 48 minutes of fasting. I'll be having two meals today. My second will be after the gym at around 4 or 4:30 p.m.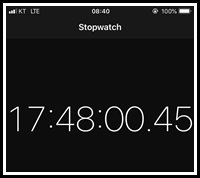 Wednesday/Thursday (Feb. 27 & 28): I had that second meal and the fasting clock began again at around 4 p.m. It's now almost 11 a.m, 19 hours later. I'm sipping on a black coffee and my breakfast is planned and I'll have it soon. That may or may not be my last meal this month. Breakfast broke a fast of 20 hours 20, and that's it for February as far as fasting goes. The fasting clock began again at 12:50 p.m., but as I wrote earlier, I'm not yet sure I'll not eat again this month.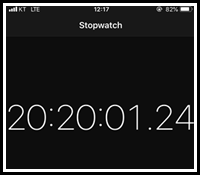 Thursday, Feb. 28: I did eat again. After an intense workout, I felt I needed some food. That food – a chicken and avocado wrap, a green tea latte, and a bit of chocolate broke a mini-fast of 6 hours and 14 minutes. My next fast began at 7:18 p.m. I'll try not eat again until at least 2 p.m. tomorrow.
Fasts Ranked by Length:
13:12
13:32
14:05
14:28
14:42
14:45
14:46
17:12
17:22
17:48
18:42
18:58
19:03
20:10
20:12
20:17
20:20
20:23
20:31
20:37
20:40
20:56
20:57
21:36
22:22
23:40
Average Fast: 18.55 Hours
Comments
comments