In January 2015, the heavenly tourism book industry was rocked when Alex Malarkey, co-author of The Boy Who Came Back from Heaven (2010), admitted that he hadn't really gone to heaven. In an open admission to booksellers, he wrote: "I did not die. I did not go to Heaven. I said I went to Heaven because I thought it would get me attention." Alex's mother, who tried for years to expose the lie, alleged that it was Alex's Christian therapist father who was responsible for the fiction. Alex, according to his mother, had nothing to do with the writing of book and did not want his name attached to it.
The book's publisher promptly pulled the book from sale. Fortunately, Amazon still has one DVD copy of a documentary made before Alex's admission. If books are more your thing, the first chapter is online, and it's quite an interesting read. If nothing else, it certainly highlight the very real danger of pulling out into traffic while talking on your phone while looking at your son seated in the back seat:
Ring . . . Ring . . . Stopped at the intersection with the phone to my ear, I looked both directions—as always. No oncoming traffic for at least half a mile. What I didn't know was that at this unfamiliar intersection I was not looking down a perfectly straight half-mile stretch of road. … "Hey, Beth, how's it going? . .  ." "Dad, I'm hungry. When are we going to be home?" I turned to answer Alex while still on the phone with Beth. I pulled into the intersection and then . . . The deafening crunch of metal ripping metal flashed and then faded into brilliant silence. All was silence.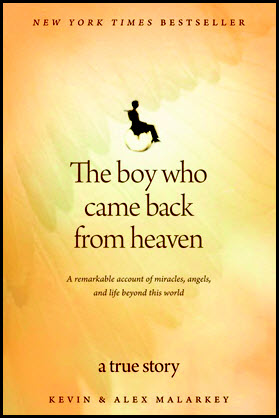 It is of course easy to scoff at those who invent trips to heaven, as we should, but spare a thought for the boy who was pressured to follow a fictitious script while dealing with the unimaginable prospect of permanent paralysis. Spare a second thought for the bravery and integrity he showed in revealing that fiction. Alex's story is long, sad, and more complicated than my short summary suggests. For those interested, it is better and best told in this piece in The Guardian aptly entitled "The Boy Who Didn't Come Back From Heaven." 
Alex's account of heavenly tourism is naturally not the only one linked to a controversy. Dr. Eben Alexander, author of Proof of Heaven: A Neurosurgeon's Journey into the Afterlife, was facing a $3 million malpractice suit and had more malpractice suits filed against him than any other doctor in the country (save one who tied with him) before he fortunately slipped into the coma that solved his financial problems.
While 90 Minutes in Heaven by Don Piper has had a smoother ride, Dr Bob Thiel, the world's foremost authority on prophecy writings according to his Amazon page, suspects the actual number of minutes that Don spent in heaven is precisely zero. Haydn Christensen disagrees. He completed the journey to the dark side he began in Star Wars Episode 2: Attack of the Clones by starring in the film version and calling it a project he was very proud of. Here is its inspiration trailer:
Do not confuse one of Don Piper's follow-up books, 
Heaven is Real
, with
Heaven is For Real
(2010) by Tod Burpo which describes his 3-year-old son's trip to heaven. Tod's book has sold more than 10 million copies, and the resulting movie earned
$101 million at the box office.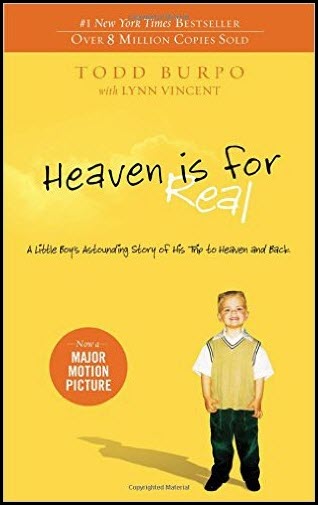 Opting to go down instead of up, Protestant Christian Bill Wiese wrote a book about his 23 minutes in hell – 90 minutes being way too long for a trip to hell – called appropriately 23 Minutes in Hell. It was also met with both skepticism and belief. Falling in the latter category, is this gem from attorney Lawrence Wang: "But hell does exist. Some people have been there and have returned. Just like some people have been to Hawaii and have returned."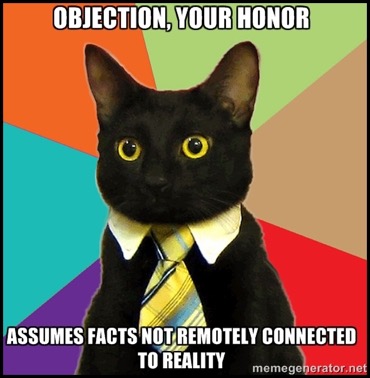 While the heavenly tourism market is a very lucrative one with sadly no shortage of people willing to believe obvious lies, financial gain and attention are not the only reasons such stories are invented. When told by leaders or members of less benign churches and even less benign cults, they often serve to reinforce the "fact" that God likes their church or cult the best. The message to members is typically: you had better be fearful, you had better stay in this church, and you had better obey.
Turning to Korea, a member of the world's largest mega church was also blessed with a tour of heaven. On the YouTube video below, Yoido Full Gospel Church founder David Cho describes an associate's fortunate return to life three days after dying of a massive heart attack. After the day-long and presumable very boring elevator ride up to heaven, he was told by Jesus that he was brought there at the request of his wife who had died several days earlier. In heaven, she lives in a big mansion, wears beautiful clothes, and is no longer really, really ugly. While it in no way detracts from that account's verisimilitude, it would be remiss of me not to point out that a few years after blaming Japan's devastating 2011 tsumani on the country's materialistic ungodly ways, David Cho was convicted of embezzling $12 million. 
Korea's 
Unification Church
, aka The Moonies, used a different approach. Not content with testimonies of children or obscure followers, Rev. Moon's sought and received, via a medium, testimonies from deceased famous historical figures, who had all, funnily enough, come to accept Rev. Moon as messiah. They didn't describe heaven in too much detail; instead, they endorsed Moon's messiahship. The list of heavenly Moonie converts is quite an impressive one which includes all the 
dead US presidents,
religious leaders
such as Jesus, Buddha, and Mohammad (that goes way beyond drawing cartoons);
God itself
; even 
Hitler and Stalin.
I, George Washington, am deeply moved to learn through Mr. Sang Hun Lee the identity of Rev. Sun Myung Moon, learn about Rev. Moon's accomplishments and philosophy, and come to a realization that he has appeared as the Messiah. – George Washington, June 9, 2002
Dear Muslims, … Reverend Sun Myung Moon came to the Earth in order to deliver God's will and to unite a divided and scattered humankind. He appears as the True Parent. I hope that my followers will also accept him with a humble attitude.   – Mohammed, April 9, 2001
George Washington offered another testimony in April 2015 in support of Moon Hyung-jin, Moon's son, as the true heir to the Moonie empire as opposed to Moon's widow:
You have been ruled by a false authority. True Mother's authority has been recently usurped by entities other than Heaven's power. …You need to follow a man named Hyung Jin Moon.
Presumably, the other dead presidents and Adolf either had no opinion on the matter or were busy that day.
All the above was written as an introduction to the main course, which is coming soon. My real goal, after I got slightly sidetracked with the above, is to explore accounts of trips to heaven and hell that make the above sound perfectly believable and normal. Coming soon: "To Hell With The JMS Cult".
Comments
comments