I took a break from cult watching and although I quite enjoyed the world of cults not being part of my life, I'm returning to it to some extent because of the Coronavirus and the outbreak in Daegu, South Korea which Shincheonji is at the heart of. I first encountered Shincheonji in 2011 when a recruiter for Mannam Volunteer Association, a Shincheonji front group. requested my help regarding the generation ideas for activities that foreigners in Korea would find appealing.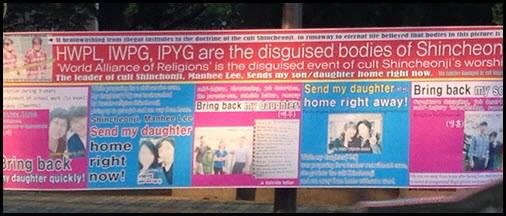 It seemed like she just wanted foreigners to have more fun in Korea through activities her organization offered. It struck me as odd as I thought there were many more demographics and causes more worthy of a volunteer's time. A small red flag was the fact the recruiter had taken a break from her university studies to volunteer full time for Mannam.
I asked if Mannam was part of a religious group and of course she said no. I had by then had some seven years experience observing cults and their use of front groups. Her request had cult written all over it. I gave her the benefit of doubt temporarily and suggested some ideas for the kinds of things foreigners might be interested in. I suggest some foreigners might want to volunteer in some way to help North Korean defectors. Granted, there were at the time not that many in Deagu, yet her response surprised me. "How about balloons and games? Do foreigners like balloons and games".  I soon learned that her request was part of a broader and quite large plan to endear as many foreigners to Mannam so they would later help populate Jamsil Olympic Stadium for an event that coincidentally coincided with Lee Man-hee's birthday.
I digress. I really just wanted a post on this part of my site linking to the part of my site where I am collecting links about Shincheonji in all its guises and more recently the related issues surrounding the spread of the Coronavirus in Daegu. Here are a couple of links and a video I filmed when I was more active with this hobby offline.
Comments
comments