AUGUST TO DECEMBER



Note: As an Amazon Associate I earn from qualifying purchases via the Amazon links included below.
Book 19: August began with me about a third of the way through Summer of Night (1991) by Dan Simmons, which coincidentally was published the same year as the last book I read, The Dragon Reborn. I first heard of the author after learning he wrote the book that the TV show The Terror (2018) was based on. More recently, I came across his name on two "BookTube" YouTube channels, one dedicated to science fiction and fantasy and the other to horror.  Summer of Night falls in the latter genre.  After reading six chapters, I went back and skimmed them again while jotting down character names and traits and relationships. The book really started growing on me when I resumed. Somethineg scary happened at around the 50% mark and another scary thing happened soon after. I think is the scariest book I've read in a long time and I am just so glad I decided to read this. I finished it a few minutes after midnight on August 6, and I think that was surely one of the best horror books I have ever read. I literally devoured that last 100 or so pages.  (Read between July 27 &  August 6)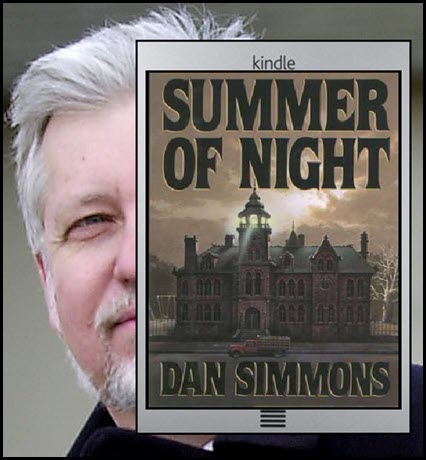 And I should give a plug to the BookTuber who introduced me to this book. Thank you Richard!
Book 20: I don't often decide in advance what book to read next; I almost always make that decision straight after finishing the previous book. For a change – I'm only 17% through Summer of Night as I type this, I have decided well in advance that my next book will be Warbreaker (2009) by Brandon Sanderson. Last year, my office mate told me about his Mistborn series, but the name did not stick in my mind. Then when reading about The Wheel of Time, I learned that Brandon Sanderson completed the series after the passing of Robert Jordan in 2007. What surprised and impressed me was the fact that I found nothing but praise for the final three books written by Sanderson. Yes, he had extensive notes to guide him, but finishing such a popular series to the satisfaction of plenty of fans sounds like mission impossible. I then explored his other books – careful to avoid spoilers – and again noticed really nothing but praise. I then started watching some of his lectures from his fantasy and science fiction writing class at Brigham Young University, which he thankfully shared on YouTube. He struck me as both a great teacher with an encyclopedic knowledge of fantasy and science fiction – I guess that's not surprising – and the art of story creation, again not surprising, but writers aren't necessarily the best writing teachers. As I type this I am literally drooling at the prospect of reading my first book by him. I've yet to read a word of his fiction – apart from skimming quicky out of curiousity the  prologue to The Way of Kings (2010), but I already feel like he is one of my favorite authors. 
It's the afternoon of Saturday August 8, and I'm about one quarter of the way Warbreaker. Witty dialogue, interesting and very distinctive characters, some surprises, an interesting and vivid world and magic system, all written in prose that is very easy to read. I am enjoying this more and more as I get deeper and deeper into the story. I'm almost a third of the way through as I settle down for some Sundat late-night reading. I've reached the point where I am grateful I chose this book and I am sure I'll read the rest of it fairly quickly. I finished it pretty late the night of August 17 having been at the 80% mark when the day began. I look forward to sooner or later tackling The Stormlight Archive and the Mistborn series. (Read between August 5 & 17)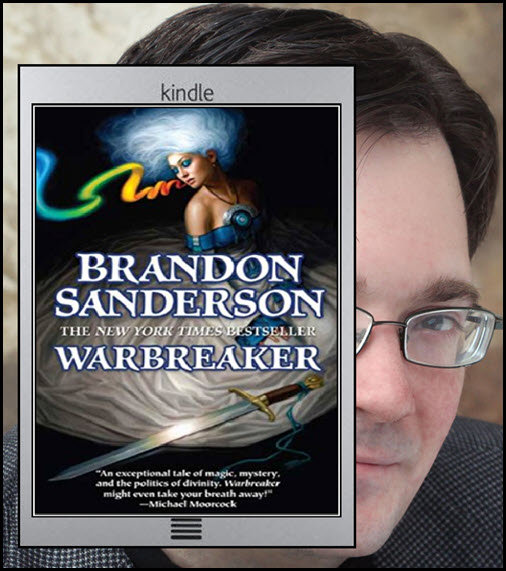 Here's an interesting and concise introduction to his career to date:
Book 21: The Three-Body Problem (2008) by Liu Cixin. I normally choose what book to read next upon completing the previous book, but I just noticed that selecting a book much earlier helps me to read the current book faster as I find myself looking forward to what is next. I chose The Three-Body Problem after watching a review of it. In particular it was a desciption of the plot in just a sentence that really piqued my interest.  I had heard of the book before, and a couple of friends have written well of it on Facebook, so I'm confident I'm in for an interesting adventure. Another plus is that this will be the first book I've read by a Chinese author. I started it the night I finished Warbreaker and I was halfway throughout by the following afternoon. This is unputdownable, and I read it in less than 24 hours. It's been a while since that's happened. (Read between August 17 & 18)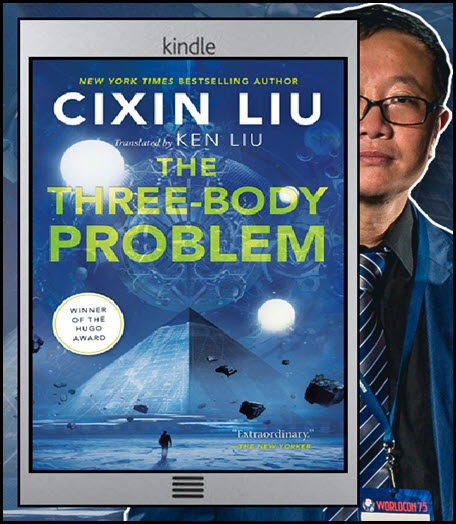 Book 22: The Shadow Rising (1992) by Robert Jordan. After three non-Wheel of Time books, I'm ready to return to that world/universe with the fourth book in the series. A fine sense of dread is established in the first chapter which is very befitting of the book's title. I think my favorite characters are in for a rough few months. Once again, the end of the book was read at a much greater pace as the main plots drew closer to their climaxes. The last third was read in four days while the whole book took me almost three weeks. They were three good weeks though as the story advances, and I have to say a few little tidbits of information revealed throughout came as very intriguing surprises. Book 5, The Fires of Heaven, is next, and I recently heard that the prequel, A New Spring, which was originally published after book 10, is best read after the fifth book. I'll follow that advice, but for now I'll take another short break and read a few different books.  (Read between August 18 & September 4)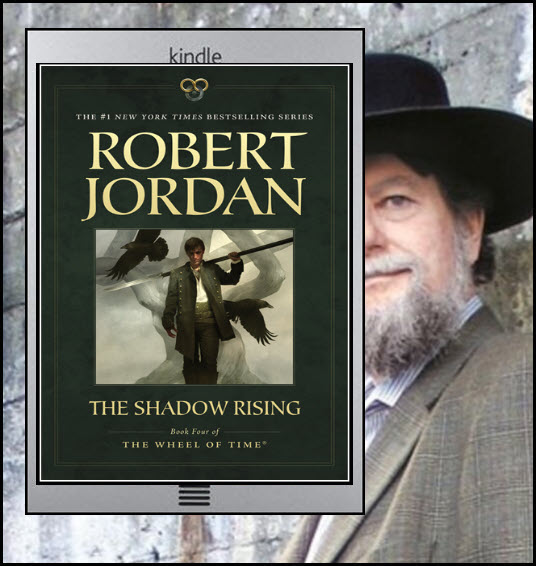 Book 23: Ennio Morricone: In His Own Words (2019) is next for a few reasons including his recent passing, more familairity with his music, and simply because it's time for a change from the many recent fantasy, horror, and science fiction books I have read. I began reading it the morning of September 4, and it immediately felt like a much needed breath of fresh air. And not just because it's a return to non-fiction after 15 books in a row, but also because it's about music and in particular about a composer I admire. A composer who  I'm sure I will admire more by the time I finish this book. And it really just took a few pages before I was totally in awe of not just his intelligence, but his amazing memory. This is an utterly fascinating and detailed journey through his life and career. (Read between September 4 & 20)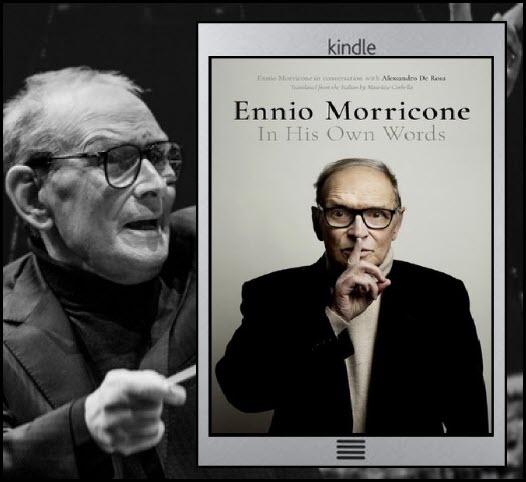 Book 24: The Dark Forest (2008) is the sequel to The Three Body Problem, and since the above Ennio Morricone book is something I can read in piecemeal fashion, I decided to start The Dark Forest before I finished reading about Meastro Morricone. I finished it at 12:20 a.m. on Friday morning, and yes, that was truly mind-blowing. Barrack Obama was right. And in related news, a TV adaption is in the works. (Read between September 6 & 11)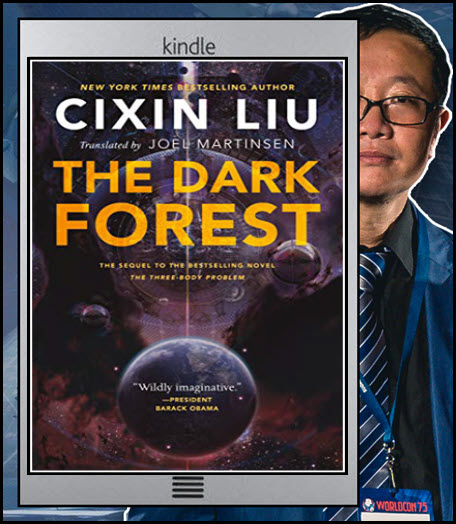 Having finished the above book 14 hours ago, and I am still undecided about what book to read next. I decided to read more musical wisdom and film music history from the mouth of Ennio Morricone. His genius comes through on every page. I finished it just after midnight in the early hours of Sunday, September 20. It took me all day to decide what to read next.
Book 25: I returned to science fiction with a short book by Poul Anderson, an author I had not read before. The premise of The High Crusade (1960) piqued my curiosity: an alien spaceship lands in midieval England. That was all I knew of the plot, and it quickly went in a direction I didn't at all expect. And it was a fun quick read. (Read between September 20 & 22)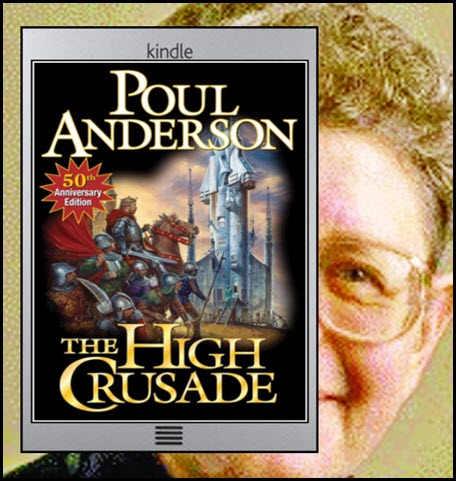 Book 26: The End of October (2020) by Lawrence Wright is next. My first book about a pandemic since the pandemic. Another quick read and I'm on track to finish it later tonight (Friday, Sept 25), which I did. (Read between September 22 & 25)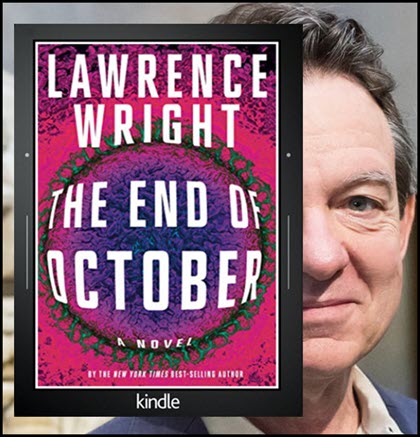 Book 27: Pushing Ice (2005), my first Alastair Reynolds, was next and once I started the first chapter after a puzzling prologue that will make sense later I'm sure. I was hooked. I have students' homework to check, but I am really keen to read this book in a few days. And that's what happened. It was one of those books that I absolutely couldn't put down, more so after the half-way mark. (Read between September 25 & 29)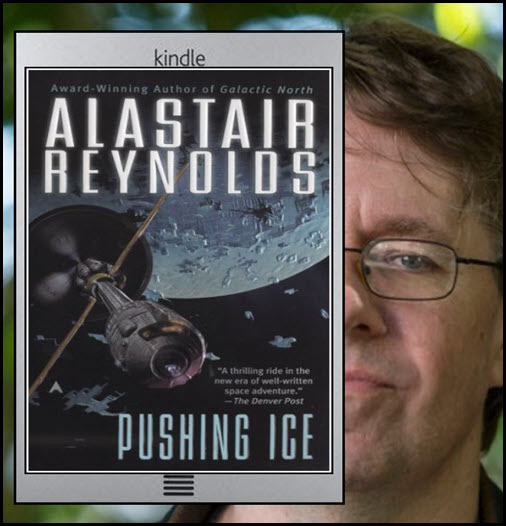 Book 28: The Doors of Eden (2020) by Adrian Tchaikovsky was a pretty easy choice for my next book. Well, this is certainly an interesting romp through parallel worlds that's full of twists and turns and fascinating "what-if" scenarios regarding evoltion's path. I'll certainly miss the characters when all is said and done. (Read between September 29 & October 6)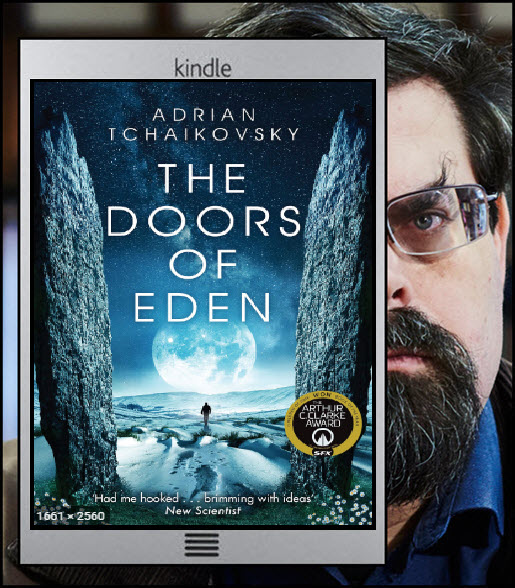 Book 29: Next up: Fool Moon (2001 ) by Jim Butcher, the second novel in his The Dresden Files series. I'm loving it. It's simply a fun read and the kind of book I could finish in a day or two but for other commitments like work and the like.  (Read between October 6 & 17)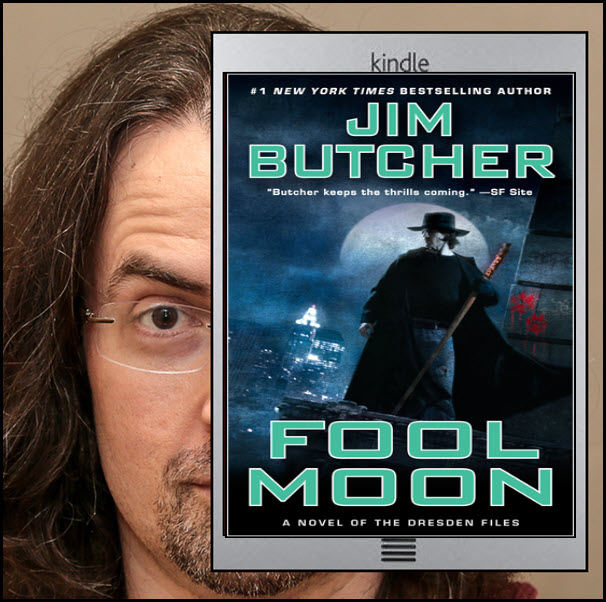 What's Next
A couple of weeks ago, I earmarked 12 books to read next – Fool Moon was on that list, so now 11 remain. I may make some changes, but here are those remaining books. I'm fairly certain the first five on the list will be read next in that order, but that's as far as I'm prepared to plan ahead, and all plans are subject to change at a moment's notice for no particular reason.
Remembrance Of Earth's Past 3: Death's End by Liu Cixin
The Wheel of Time 5: The Fires of Heaven by Robert Jordan
Jack Reacher 25: The Sentinel by Lee Child & Andrew Child
The Ministry for the Future by Kim Stanley Robinson
The Salvation Sequence 3: The Saints of Salvation by Peter F. Hamilton
Culture 2: The Player of Games by Iain Banks
 William Warwick 1: Nothing Ventured by Jeffrey Archer
 The Wheel of Time Prequel: New Spring by Robert Jordan
The Lady Astronaut 3: Relentless Moon by Mary Robinette Kowal
Red Rising by Pierce Brown
Mistborn 1: The Final Empire by Brandon Sanderson
Book 30: Death's End (2010) is the third and final book in Liu Cixin's Remembrances of Earth's Past trilogy which began with The Three-Body Problem. I started it with high expectations and a real sense of excitement. I've read and seen on some BookTube channels criticisms of this series, in particular the first book as those critical of it are less likely to continue. Some of those criticisms regarded characters, but for me personally, the ideas in the series are its most distinctive and mind-blowing feature. The scope of the book is equally mind-blowing. I'm half-way through after almost two days of reading and I am as captivated by the story and the ideas contained therein as I have been by any other story, and I'll repeat myself and restate that the ideas are simply mind-blowing. (Read between October 18 & 21)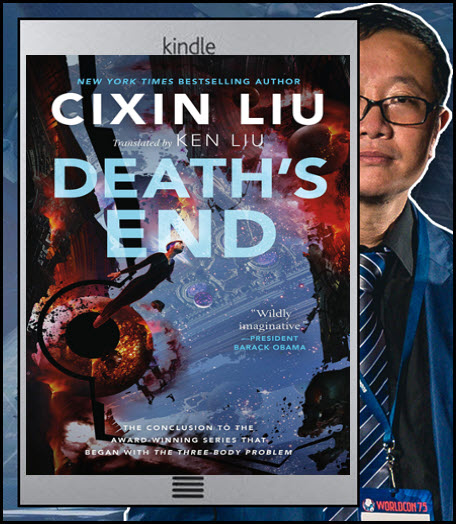 Book 31: It's time to return to Robert Jordan's The Wheel of Time series with The Fires of Heaven (1993) , the fifth book in the series. (Read between October 21 & …)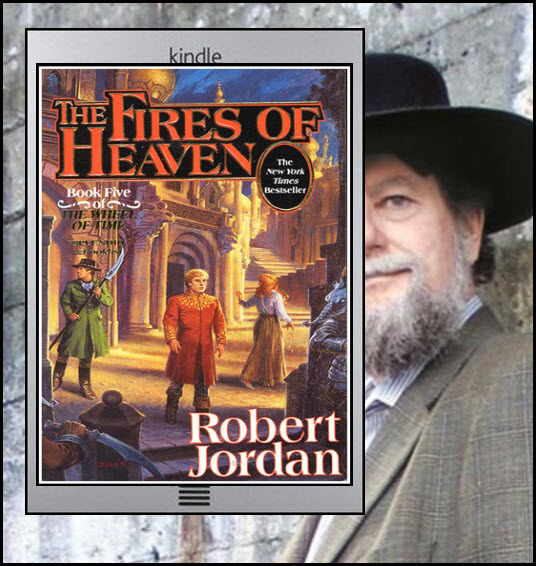 Book 32:
Comments
comments