September 2009 was perhaps my most active month ever with 17 cardio sessions and an uncountable amount of weights sessions.  215 km on my exercise bike and 33 km on the treadmill up an incline with a sore ankle!  The only months that would perhaps compare would be during my old rugby days at Royals Rugby Football Club when some mad ex-army crazy nutjob torturer trained us. He made me vomit more than once. This month, I hope to equal or better September's numbers  with a much healthier ankle. Work and study wise, I'm heading into a busy few weeks, but an unexpected six day vacation to kick off the month should see October start with a big bang fitness wise.
Thursday October 1: To the gym between a meeting with my old boss and Andrew's birthday party in Margaret's apartment – Friday is a national holiday. I exercised my upper back, lower back, biceps, forearms, and sides. Last month, I promised myself to focus more on my core and tonight I finally got round to hammering my sides and lower back. I was working out so hard, a lady working out next to me told me I work out too hard. Yay!  Then 2.5 km on the treadmill up a pretty steep incline at the end and a faster average pace overall: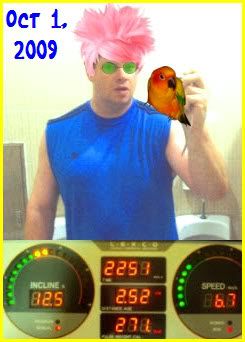 Saturday, October 3: Back on my trusty exercise bike for 30 km with ab workouts before AND after. I watched the season premier of Smallville. A silly show, but it's Superman.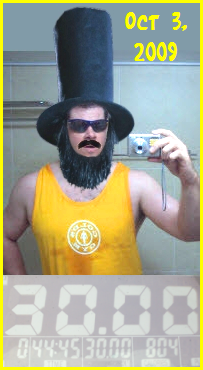 Sunday October 4: Twenty km on the bike and then some calf raises: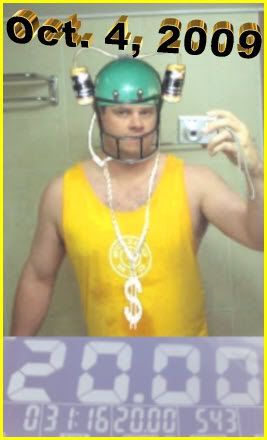 Monday, October 5: Two hours in the gym to celebrate the continuing Chuseok break. Legs, chest, shoulders, triceps and 3.5 km on the treadmill:
Tuesday, October 6: Began the day with eight minute abs and a sides workout watching an episode of Curb Your Enthusiasm about a retired Kamikaze pilot. Still on vacation and relishing the chance to be chilling in my loungeroom at 8:30 a.m. as opposed to leaving for work at 7:35 a.m. On to my trusty exercise bike right after the ab workout and I went for a 20 km sprint, finishing it 15 seconds outside my world record time.
 In other news, this morning was the first time in a few years that I've worn my Superman shirt. I haven't felt worthy of it of late to be honest, but this morning it seemed to call to me. It was a call I couldn't resist and when I put it on, it started glowing!
Wednesday, October 7: The last day of the 6-day Chuseok break saw me back in the gym for a very intense and varied back, biceps, and forearm workout. It's been six days since I exercised those body parts, so I felt well rested and really gave my muscles hell! My back has, much to my surprise, become my favorite muscle group to work out. No cardio today as my legs were tired from all the recent weights and cardio. Perhaps a big cardio session tomorrow or Friday. My traps were much sorer than usual. 
Thursday, October 8: To the gym in the evening for a longer cardio session. 8.5 km on the treadmill and then some ab work and a good stretch: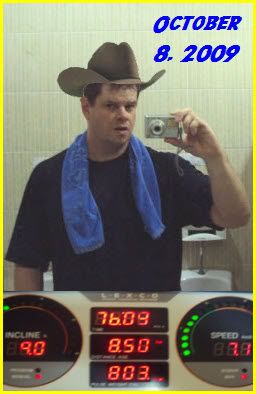 Saturday October 10: A morning ab workout followed by 25 km on the exercise bike watching the Stargate SG1 season 1 episode "The Knox."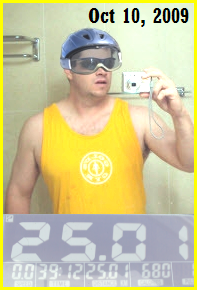 Sunday October 11: I went to sleep last night expecting to wake up sick, but thankfully that didn't happen. Yesterday evening after a long unexpected nap, I noticed my eyes were full of sleep raising fears of conjuctivitus. Thankfully, I awoke with just the normal amount of sleep in my eyes and I felt fine. With that clean bill of health I did chest, shoulders,  triceps, and calves at home for the first time in quite a while. Later a 50 minute leisurely walk down by the river. Nice and leisurely except I almost sprained my ankle again.
Now to plan my fitness sessions for the week: Monday – minimum 25 km on the bike and abs. Tuesday – back and legs at the gym and a minimum 2.5km on the treadmill.  Wednesday – rest. Thursday – chest, shoulders, and triceps at home or maybe in the gym plus a cardio session.
 Monday October 12: Thirty km on the bike watching an episode of Stargate SG1:
Tuesday October 13: To the gym around 8 p.m., but I almost didn't make it. My sofa tried very hard to stop me, but  I resisted and was glad I did. Back, traps, and biceps followed by 3 km on the teadmill up an incline and moving at 7.1 kph for the first time:
Wednesday October 14: A 30 minute ab session while watching a season six episode of Curb Your Enthusiasm. Eight minute abs were followed by some lower ab exercises on one of those ab machines you always see on homeshopping shows and then a few sets of side exercises. Note to self: keep your abs seperate from your other workouts.
Friday October 16: I planned to go to the gym yesterday, but I accidentally fell into a deep sleep at 4:30 p.m. An unextected rest, but I think a necessary one. So back to the gym on the 16th – my birthday – for an overdue chest, shoulders, and triceps workout. Then onto the treadmill for three very steep and quick kilometers. My ankle felt surprisingly good despite almost spraining it again last Sunday. Then I did some leg exercise. That was the first time in a good long time that I've exercised my legs after a cardio session. If my legs could speak, they would have said, "Stop!"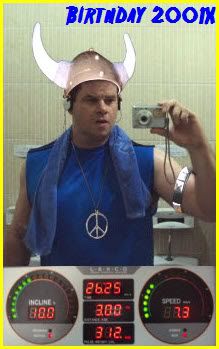 Sunday, October 18: I didn't make it to the gym yesterday or this morning, so I was determined to end the weekend with a decent amount of exercise. Twenty minutes of abs while watching The Office followed by a staggering 50 km on my trusty exercise bike while watching Supernatural and Stargate SG1. T'ilk gets stung by a giant bee and the Winchester brothers meet a 8 year old boy who is half demon! It's now 11:52 p.m. and I feel utterly exhausted. That session really took it out of me: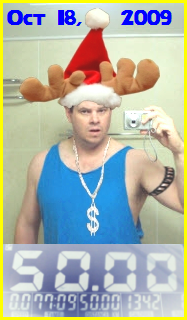 Monday, October 19: Back to the gym for quite an intense workout. I started with upper back, biceps, and forearm exercises and then hopped on the treadmill for 3 steep and quite gruelling kilometers. I ended the session with lower back and calf raises.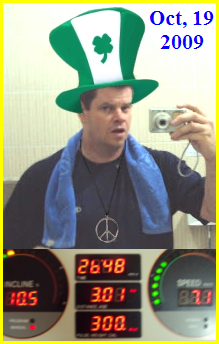 Wednesday, October 21: A home chest, shoulders, and abs workout followed by 20 km on my favorite exercise bike.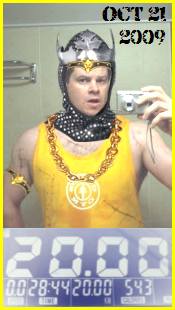 Thursday, October 22: Nine gruelling kilometers on the treadmill at the gym left me utterly exhausted!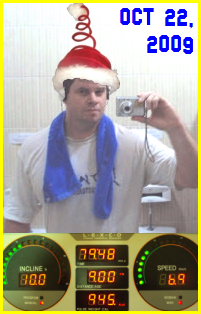 Saturday, October 24: Up bright and early and at the gym by 7:40 a.m. I mixed up my back workout decreasing the weight for pull-downs and increasing the weight for bent-over rows. Traps and biceps were followed by a fast and steep 2.5 km on the treadmill. I ended the session with one set of lowerback extensions having run out of time – I was late for a language exchange with Kyeong-min.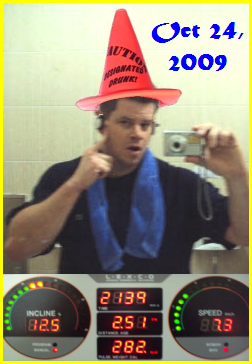 Sunday, October 25: Twenty-five kilometers on my treadmill for the 25th day of the month while watching the Stargate SG 1 crew travel back in time to 1969.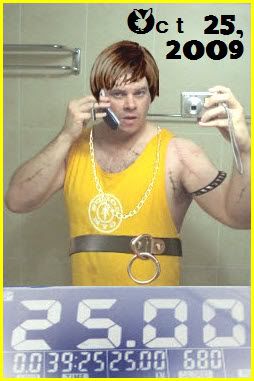 Tuesday, October 27: A much more intense workout for my chest and shoulders. I felt it was time they had a harder workout. I worked my triceps as well, but not at the same level. Then three fast and steep kilometers followed by a few extra sets of shoulder exercises. A nice stretch to end the session,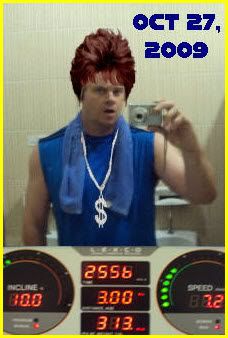 Thursday, October 29: Twenty minutes of ab exercises followed by 20 km on my bike. That's 240 km on the bike for the month so far and 38 km on the treadmill. I'm pretty happy with those numbers and there's still two days left.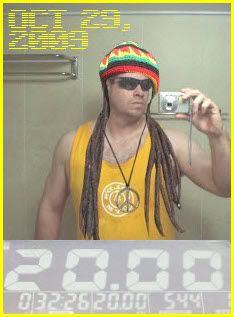 Friday, October 30: My final exercise session of the month consisted of a very solid back workout, the hardest biceps workout in a good while, and two very steep and quite quick kilometers on the treadmill.
Monthly Totals:  Treadmill 40 km. Exercise Bike: 240 km.
Comments
comments