I was told at a recent health check-up that I am 10 kilograms overweight.  In my defence, I know I have higher than average muscle mass, but yes, I could still lose some weight. Furthermore, despite regular exercise, my weight has ever-so-slowly been creeping up of late. Fortunately, 2Much's founding singer Ian is also endeavouring to lose weigh as is a friend of his. Hence, a challenge was born. We weighed in last night, and our goals are to lose 5 kilograms over the next four weeks. The rules are simple, if you don't lose the weight, you have to hand over 100,000 won.
Actually getting to the gym on a regular basis isn't a problem for me although I really should life my intensity and time spent in the gym. That's not the insurmountable hurdle; the insurmountable hurdle is food, glorious food. I think the only way I can defeat that demon is if I document exactly what I eat and when I eat it. And no cheating. I just wish my department's annual Thanksgiving unlimited food feast wasn't on tomorrow night.
Day 1: Wednesday, November 25. I'll need to cut down on bread, but since I still have some in the fridge, so breakfast at around 7ish consisted of just one piece of toast with Vegemite, some necessary butter, and a heavenly cheese slice. A nice wholesome cup of tea completed the heavenly breakfast experience: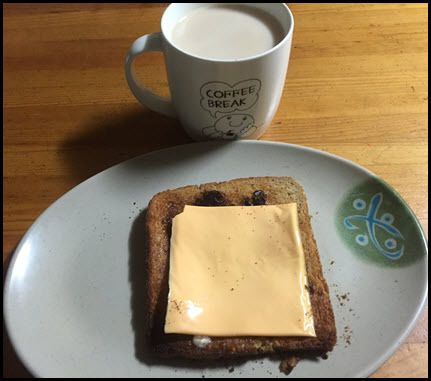 On the way to the office I bought a healthy Paris Baguette chicken salad, an energy bar for energy, and a bottle of calorieless H20. It's 8:53 am and I'm really hungry.
Free office coffee consumed at 9:20 with the Dr. You energy bar pictured above: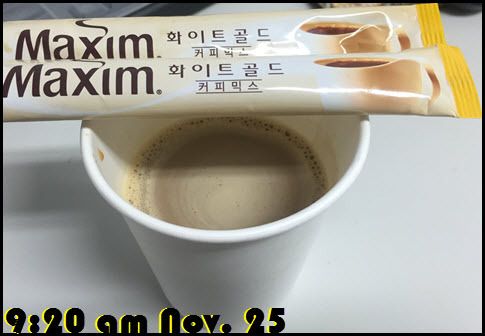 Of course one of my students bought Pringles to class. Unfortunately, she didn't have the will power to say no to my repeated requests. I think I ate about 11 or twelve Pringles. Sorry. At around 1:25 pm, between Pringle class and my next class, I ate the chicken salad I bought this morning: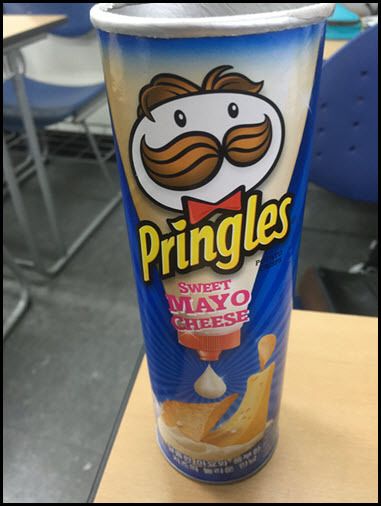 I judged a presentation competition in the afternoon, and of course there were free snacks for the judges. I only ate them to be polite. I saved the strange fruit thing for later:
I ate that fruit thing with a cup of tea at around 6 pm at a cafe. It's now 7:04 pm, and I'm really, really hungry.
Two hours later, I was home feasting on a magical Moroccan chicken bread roll and another cup of tea in my reliable cow mug instead of my usual banana milk: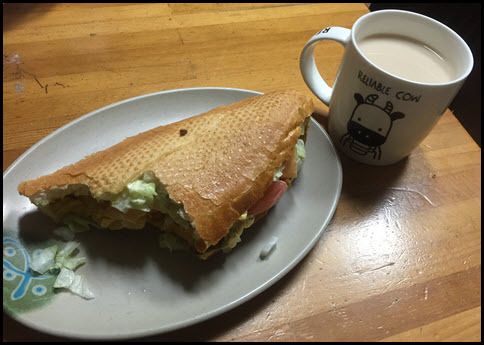 Day 2: Thursday, November 26. Up super early for an another early Vegemite toast and tea breakfast: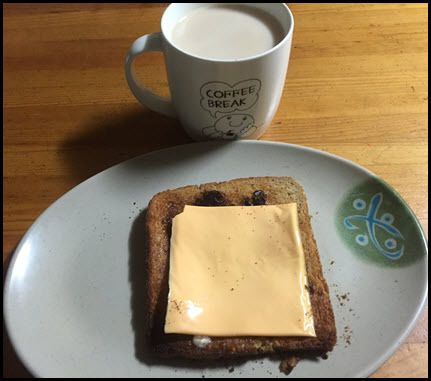 I hit the gym next for an early morning 4 km cardio session. Breakfast number 2 followed which consisted of more toast, but this time I swapped the Vegemite and butter for a healthy fried egg and some healthy cream cheese. And that's the most delicious black tea latte this side of the DMZ:
And then a drinking yoghurt, diet bar, and a fruit thing were supposed to see me through to tonight's Thanksgiving Feast, but my students had other ideas. They forced food upon me in the form of two (just two) white chocolates, a healthy cookie, and another fruit thing which I selflessly shared with co-workers: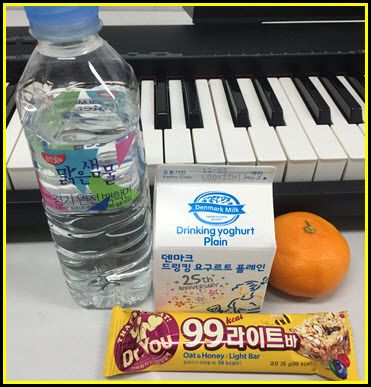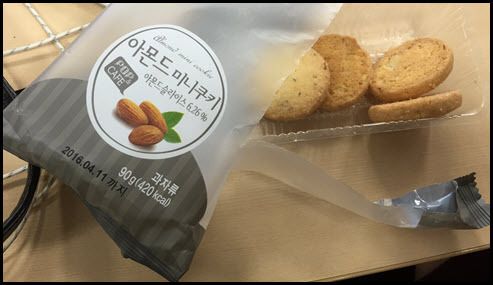 Next up was the Thanksgiving Feast that could not be denied (note the carrots and beans):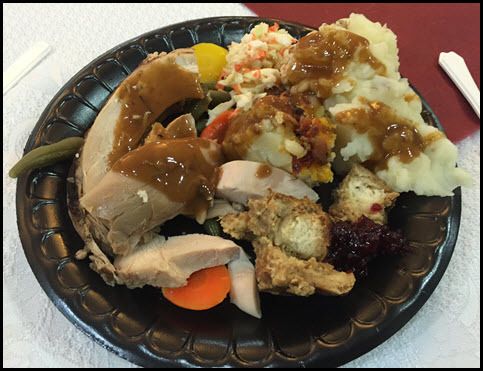 Day 3: Friday, November 27. I walked to work and stopped for a coffee and ciabatta breakfast along the way: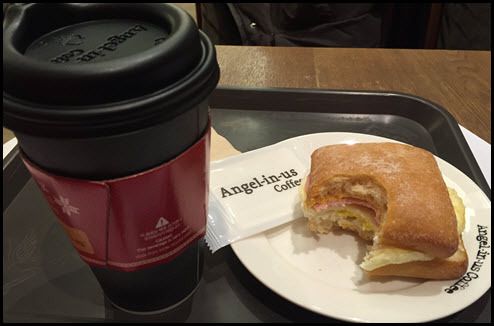 Thanksgiving leftover's for lunch. The leftover desserts came later in the day, and I only ate a few pieces of the chocolate mint slice: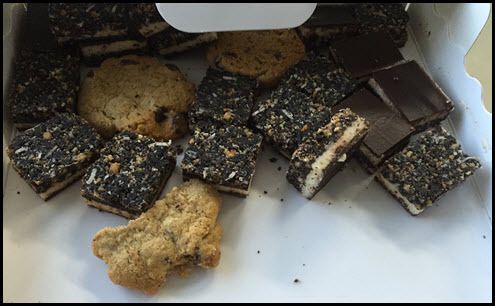 A light mandu dinner was followed, after a weights session by some 1+1 protein powered banana and strawberry milk which I consumed slowly on the long walk home.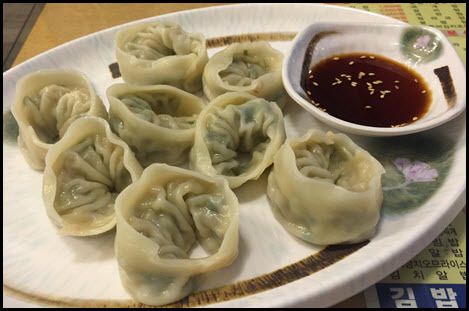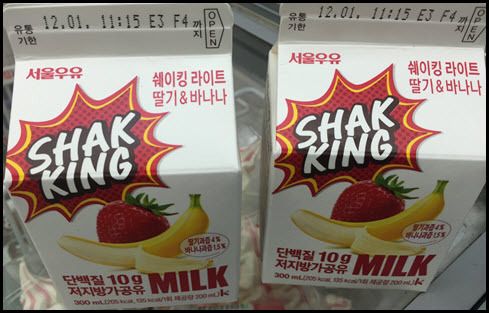 Sadly, I consumed two really small mini bread rolls with a smidgen of margarine and Vegemite before bed. I think I could have survived the night without them. I also drank some water.
Day 4: Saturday, November 28: A protein shake and just one piece of Vegemite toast for breakfast. The perfect start to the day:
I walked to the office again via a Starbucks that tempted me with brunch:

Next up, a power snack ahead of a cardio workout: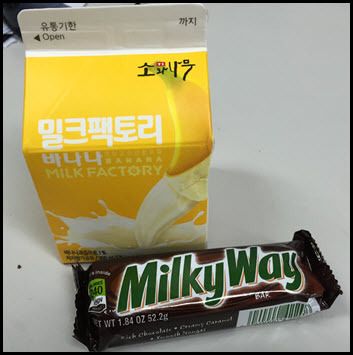 Post-workout late lunch: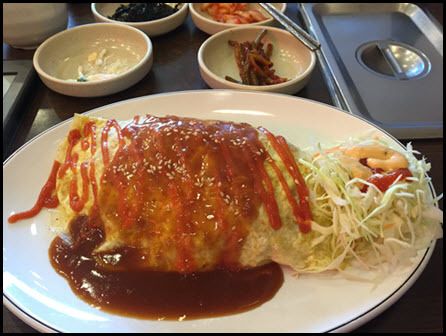 After walking home, I needed a Honey Milk: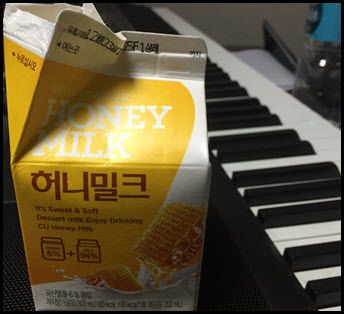 Thanksgiving leftovers made for a yummy and free dinner: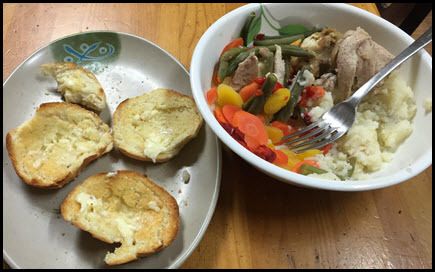 Four days in and I don't think I'm doing this diet thing right.
Day 5: Sunday, November 29: Same start to the day as yesterday:
A late brunch at home consisted of tomato soup with the remaining Thanksgiving dinner leftovers (carrots, beans, and bread rolls) and the obligatory cup of tea:
A chicken, cheese, and avocado sandwich with a latter. That was followed by an 80-minute walk and a banana milk as I reviewed the transcript of a recent interview I gave about cults!
Dinner was a healthy kebab and a heavenly honey milk:
Day 6: Monday, November 30. Monday started with a protein shake at 3:40 am to help wake me up for a 2 hour interview starting at 4 am.
Then a decent-sized American breakfast in the dangerous basement under my office:
A wee coffee a little later:
A sandwich between my first and second classes:
A wee healthy snack after class:
A wee healthy egg/bread/mayonnaise thing:
A late-night white chocolate while doing some late-night work: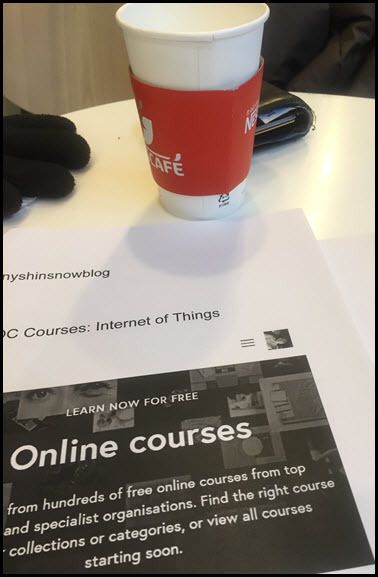 Day 7: Tuesday, December 1. Three Weetbix and a coffee to start the day: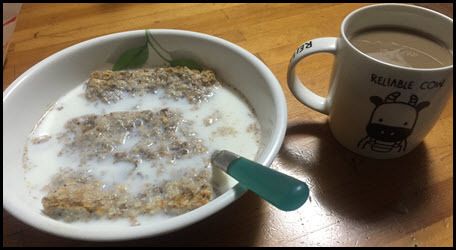 A couple of those naughty Thanksgiving dinner chocolate slice leftovers plus a healthy snack: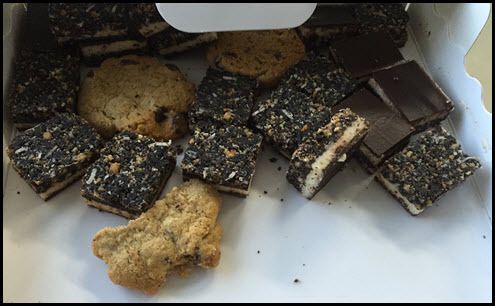 A healthy lasagne and a black tea latte after class:

A very light dinner after walking home and after band practice: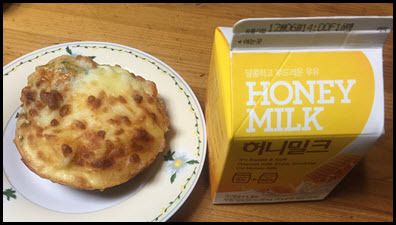 Week 1 is over, and it was a bit of a disaster to be honest. It was helpful, however, to track everything I eat. That at least helped me see I perhaps eat more than I need. Hopefully, that experience will help me as I go into week 2….
Comments
comments