Thursday, April 1: My April fitness campaign began with a 65-minute gym session: 4 km on the treadmill, a legs workout, and one skipping set of 230 jumps. 22 days, 19 hours, and 42 minutes to my first half marathon!
Saturday, April 3: Today was my first time time to use my new SwimP3 in a 50-meter pool and the experience was simply amazing. Best electronic since my automatic bread slicer.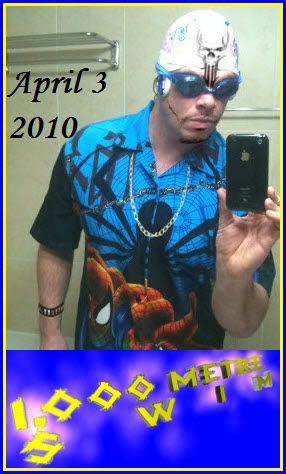 Sunday, April 4 (Easter): A quick morning twenty-minute back and biceps workout in the gym followed by a swim later in the afternoon. I'm not sure exactly how far I swam, but I spent about an hour in the pool so I'll call it 1.5 km: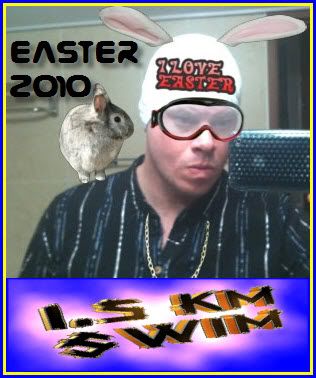 Tuesday, April 6: Seventy minutes in the gym. 2.5 km on the treadmill and then chest, shoulders, and triceps. Then for a change I hopped on the cross trainer for 7 minutes and ended the session with 2 skipping sets of 125 and 115 jumps: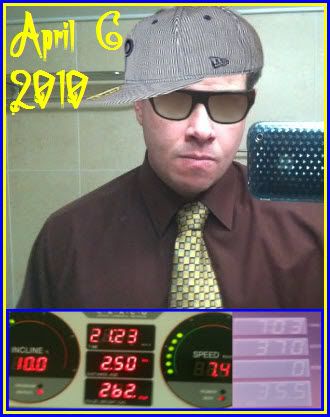 Wednesday, April 7: Longest abs session in my life while watching abs. I did 8-minute abs twice plus some planks and side raises. 30 minutes all up and I certainly felt that the next day!
Thursday, April 8: A super cardio and leg strengthening session this morning: 3.5 km on the treadmill followed immediately by 2 skipping sets of 150 and 160 jumps. Then hamstrings, groin, and buttocks exercises followed bya  grueling 9 minutes on the crosstrainer; that last minute felt like ten. I ended with a few sets of calf raises. I later rode to work and walked up to my 4th floor office. That doesn't normally count as exercise, but after this morning's effort I think an exception is justified.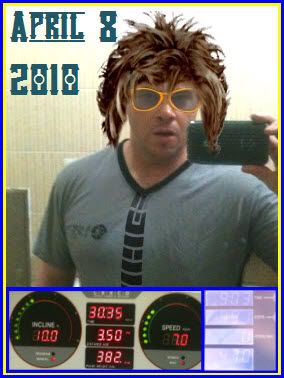 Saturday, April 10: Forty-five minutes in the gym this morning: back, traps, lats,  and biceps followed by two skipping sets of 170 jumps each. Then a 90 minute bike ride stopping half way to swim 2.1 km, my longest swim since buying my beloved SwimP3.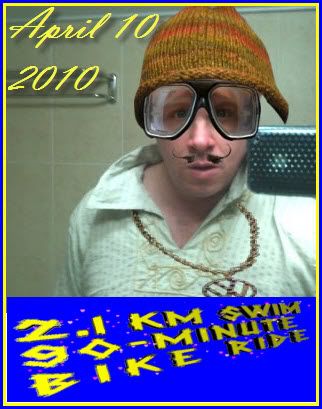 Sunday, April 11: My first outside jog since last June's Dokdo marathon where I placed in the top 500 in the 10 km event. I wanted to test out my new running shoes, see how my shins felt, and simply experience the feeling if running outside again. Forty minutes all up and although the beginning was a struggle, I found a rhythm near the end which gave me hope for the half marathon in two weeks: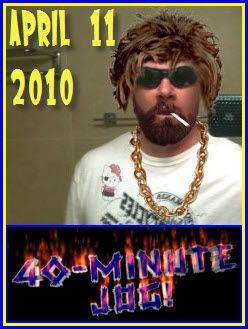 Monday, April 12:  A morning home workout consisting of 35 minutes of abs: 8-minute abs twice, side raises, planks, and twists, and a short shoulders and triceps workout because I still had plenty of time before class.
Wednesday, April 14: Back on my exercise bike for the first time this month for a solid 35 km while watching the American Biggest Loser Season 4: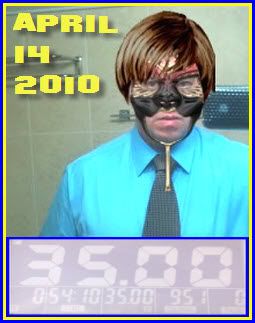 Thursday, April 15: At the gym by 8 a.m. for an 80-minute session. Three skipping sets of 100, 200, and 150 jumos to start things off. Then a back, lats, traps, and biceps workout followed by two more skipping sets of 150 jumps each. SOme lower back extensions and then I finished with 3 km on the treadmill up a steeper incline that usual:
Friday, April 16: Thirty-two minutes of abs in the morning before work while watching The Biggest Loser. 8-minute abs twice, planks, side raises and some twists. Hope I'm sore tomorrow…
Saturday, April 17: Eighty minutes at the gym starting at 10:40 a.m. for one of my hardest gym workouts ever! An intense chest, shoulders, and triceps workout followed by 3 skipping sets (200, 150, & 150). Then my fastest and steepest 2.5 km ever on the treadmill followed by hamstrings and calves.
Normally I'd be satisfied with that amount of exercise, but with my first half marathon a week away I wanted to do more. I rode to the 50-meter pool behind HomePlus and swam 500 meters. I planned to swim much further than that, but my shoulders, still tired from the gym, complained a lot and my SwimP3's battery was flat. So just a short swim, but I went for a longer bike ride afterwards to make up for that. All up I spent about 3 hours on my bike riding around Daegu. Diet-wise it was a good day as well: Popeye's chicken salad for lunch and a salad sandwich plus a protein shake for dinner.
Sunday, April 18: My half marathon training stepped up a gear with a 90-minute run! To HomePlus and back which was much further than I had hoped to run when I began. I felt good the whole way and had enough in the tank to speed up at the end. I'm feeling much more confident about next week's half marathon after that. Yay!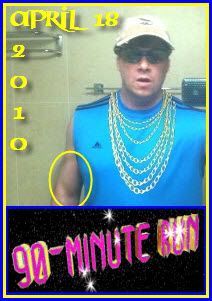 Monday, April 19: 40 minutes of abs in the morning consisting of planks, side raises, twists, and two 8-minute abs sessions. Surprisingly I didn't feel very sore the next day and that bothered me.
Wednesday, April 21: An early morning skipping session in front of my apartment building (which I filmed), but it was pretty windy so I stopped after 4 sets (150, 140, 100, & 130) and then went back inside for a pretty quick 20 km on my exercise bike watching episode 1 of the American Biggest Loser season 5:
Thursday, April 22: My last exercise session before Sunday's HALF MARATHON was a home workout consisting of chest, shoulders, triceps, twenty minutes of abs, and 25 km on my exercise bike watching The Biggest Loser season 5:
Sunday, April 25: My first half marathon! A slow and steady pace the whole way except for two quick toilet breaks necessary because I drank too much before the race. Two hours 38 minutes at an average pace of about 8 km an hour. The big surprise for me (apart from finishing) was that I never really felt like stopping: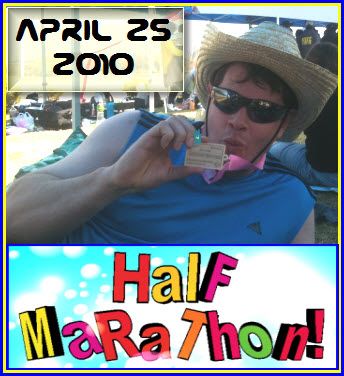 Wednesday, April 28: Twenty minutes of abs in the morning before class.
Thursday, April 29: Back in the gym this morning for the first hard workout since the half marathon. Back, lats, traps,  and biceps followed by a pretty steep 2.5 km on the treadmill. Hamstrings were next followed by 2 skipping sets of 150 jumps each. I finished up with lower back extensions and some calf raises. Eighty minutes all up and it felt great to be exercising again: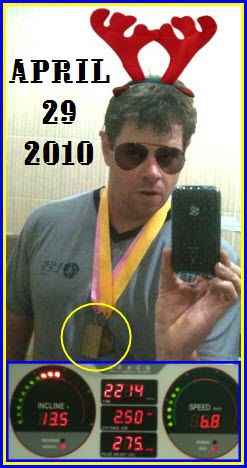 Friday, April 30: I ended April with 25 km on my exercise bike before my 9 a.m. class and then a gym session immediately after it for a chest, shoulders, triceps, and sides workout with two skipping sets of 130 jumps each thrown in to get my heart rate up: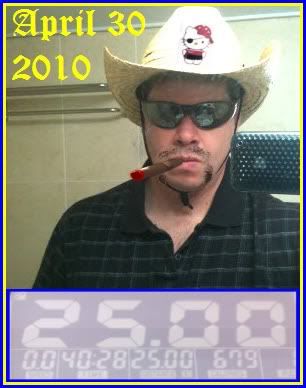 Comments
comments