I am honored to be part of the team of volunteers working to help raise awareness of Mr Hwang's crusade to meet his abducted father. More about that here.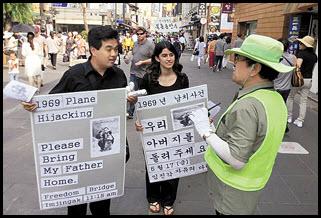 When Hwang In-cheol was 2 years old, his father disappeared. … It wasn't until Hwang was in the third grade that his father's brother decided he should know the truth.
Hwang Won was a 32-year-old producer for Munhwa Broadcasting Corporation (MBC) based in Gangwon. On Dec. 11, 1969, he boarded a Korean Air flight from Gangneung, Gangwon, for Gimpo International Airport in Seoul to attend an MBC internal meeting. A senior colleague who was supposed to attend was busy. He ordered Hwang to fill in for him.
Ten minutes after takeoff, a North Korean spy hijacked the YS-11 aircraft and the 50 other people on it, all South Koreans, to Wonsan, some 207 kilometers (128.6 miles) east of Pyongyang, the North's capital. Continue reading at The Korea JoongAng Daily.
Comments
comments