Week 4 (Star Wars Week), Day 1: Wednesday, December 16. Week 4 began with just one Weetbix brick and a cup of tea. I was quite proud of that.
Same banana above and below. I mistakingly took its photo twice and neglected to take a photo of the 99 calorie bar I bought. Two chicken salads today – that's a first!
Dinner was chicken and veggies if memory serves. yes, it was. Here's a previous picture of the same meal: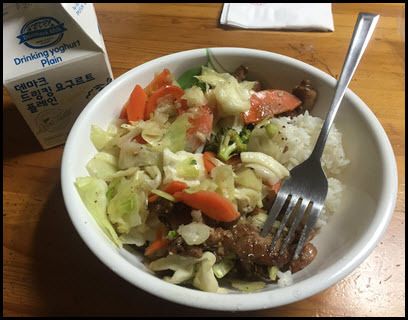 Week, Day 2: Thursday, December 17: Two fried eggs and toast. The second fried egg arrived a minute after this photo was taken. It's never easy altering a menu item in Korea:
More healthy stuff plus three perhaps not-so-healthy BBQ chicken pockets:
The last bribe of the semester, thank God!

And then some I-don't-remember for dinner. Maybe chicken and veggies?
Week, Day 3: Friday, December 18: A solitary Weetbix and a coffee for breakfast:
Pre-Star Wars Japanese style chicken and rice:
Post-Star Wars fried chicken. The beer wasn't mine:
Week, Day 4: Saturday, December 19: A light breakfast to start a busy day:
Traditional Korean milk green tea!
After that a delicious salad, some tea, and a little later, an afternoon morning milk: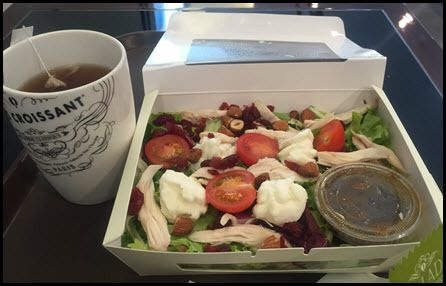 After the gym. a late afternoon healthy chicken, cheese, avocado, and salad sandwich:
A Dunkin Donuts hot chocolate followed over a rather interesting meeting. I neglected to take a photo. After that, well I ate Christmas party food and drank a few Christmas party rum and cokes.
Week 4, Day 5: Sunday, December 20. Coffee with Weetbix and two bananas:
A very light lunch with a few naughty little lollipops I found in the teachers' room: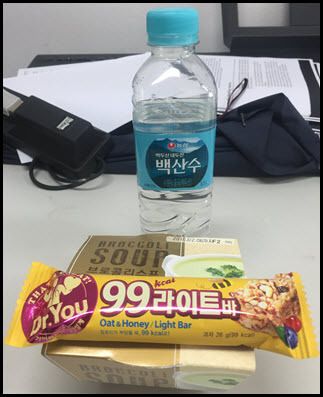 Dinner after a cardio workout was followed an hour later by a drinking yogurt: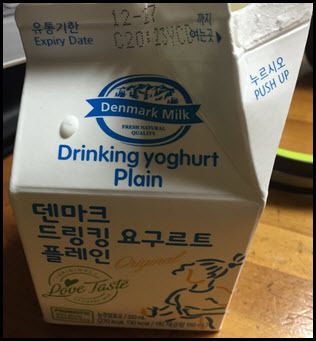 Week 4, Day 6: Monday, December 21. A protein shake to start the day at around 6:30 am was followed by an unphotographed Starbuck's cafe latte which was consumed while I graded some of the last few presentations. More coffee followed a couple of hours later in the form of a free office mixer that I'm told isn't particularly healthy nor nutritious:
And this is what I hope will keep me going until after tonight's gym session.
It didn't, but the following fried rice, latte, and salad did:
Oops:
Week 4, Day 7: Tuesday, December 22. A coffee at home followed by some egg toast at work and a little later two whole salads:
And then a latte and small chicken toasted thing and a naughty and not-entirely necessary chocolate bar:
Then I hit the gym ahead of tonight's weigh-in. I walked home after the gym and weighed myself. If X was my weight one month ago, my current weight is X-3 kg. Not the 5 kilograms I was aiming for, but it was a nice solid start. I weighed a little less before the weekend, so I think all in all it wasn't an entirely unsuccessful campaign. I'm certainly eating more salads these days and I'm walking more. I still have a few food issues to deal with. but keeping track of my eating habits over the past month has helped me with that.
After the weigh-in, I treated myself to a Moroccan vegetable sandwich and another drinking yoghurt. Thus endeth the month:
Comments
comments