I was living in Daegu in 2005 when I first heard about Nakwon Music Mall. After a 13-year break from regularly playing guitar due to a repetitive strain injury, I decided it was time to try again as the simple joy of playing music had been missing from my life for far too long. My quest for a new guitar started in Daegu but ended in failure, so I asked a musical friend about music stores in Seoul. "You should go to Nakwon" was her helpful reply. And so I did.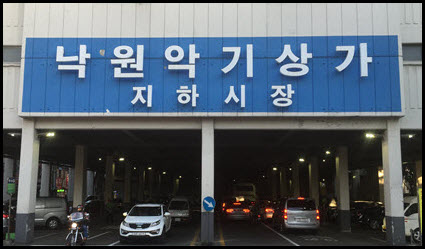 I always enjoyed browsing music stores in my hometown – like Better Music for example – and in cities I've lived in and visited over the years, but I had never seen anything like Nakwon. If there were such a thing as musical instrument heaven, Nakwon would be it.
At Nakwon, I found the guitar that I wanted to buy. I didn't go there with a clear idea of what kind of guitar I wanted to buy, but as soon as I saw this Ibanez Artcore AGS83BATF, it was love at first sight.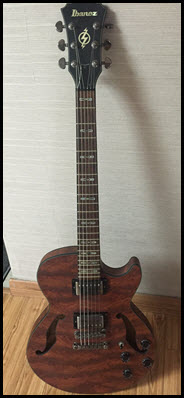 I also needed an amp and effect pedals. Once again, Nakwon had what I was looking for, and I was soon the happy owner of a Zoom G2 effects pedal and a small Fender Frontman 15G amp.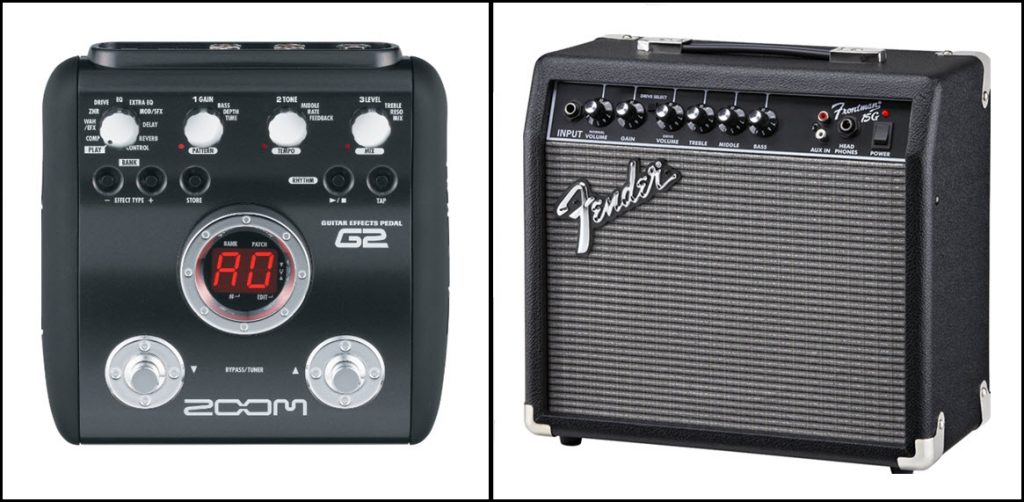 A couple of years later, I bought a Steve Vai signature Ibanez JEM guitar, albeit a cheap one (it's for sale if anyone wants it – the tuning isn't all that stable, but it's got a great feel), and a Boss GT-10 guitar effects processor: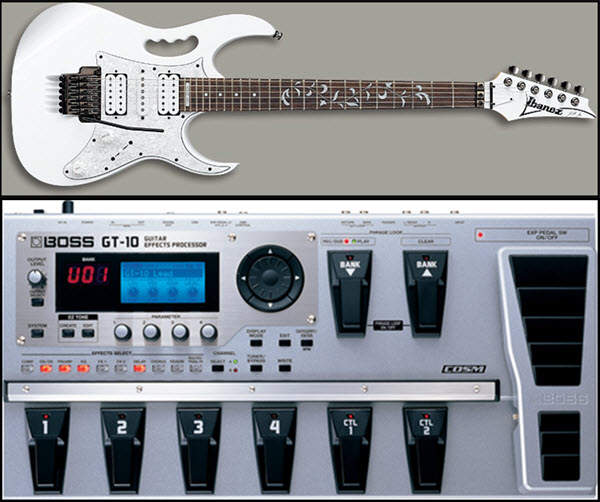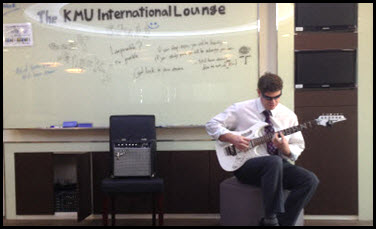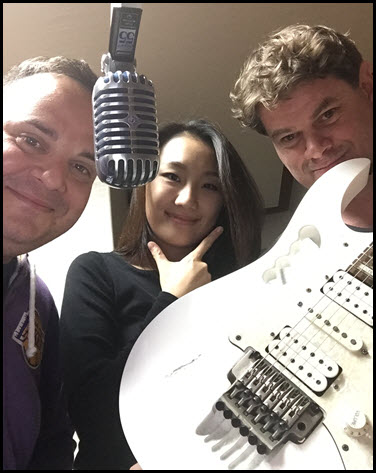 While the above guitars and equipment are all my preciouses, the piece of equipment that enabled me to have the most fun was a Boss BR-800 digital recorder. My BR-800, along with the magic of special effects, enabled me to make videos of myself playing several instruments at once. That added a very enjoyable aspect to my playing that saw me attempting pieces I wouldn't have otherwise considered playing on guitar and piano.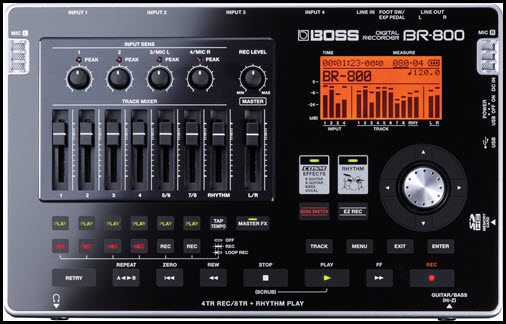 While on a business trip to Houston in 2012, I attended a party where an amazingly energetic covers band was performing. One of the band's most enthusiastic members played a Roland Ax-Synth Keytar with style.

Upon arriving back in Korea, I went straight to Nakwon and left twenty minutes later the owner of my own keytar. To be honest, I haven't played it as much as I envisaged I would when I first bought it, but it has provided me with some good times and fun little musical memories. Plus, it sure came in handy when the day came to film a music video with my English Music Club students: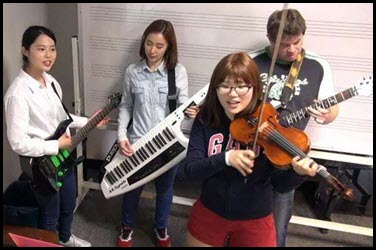 In 2013, I moved to Seoul and soon found myself often visiting Nakwon just to see what new and interesting instruments and equipment were available. Most of the time, I left with my credit card in tact, but not always. I had never seen nor heard of Yamaha's line of silent guitars before first sighting one at Nakwon.


Now, my very own silent guitar is the guitar I most often use when performing with the band 2Much.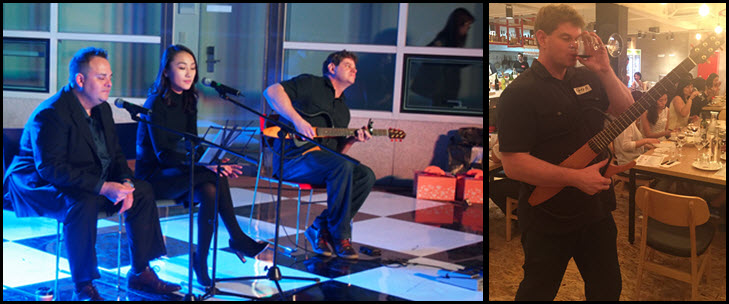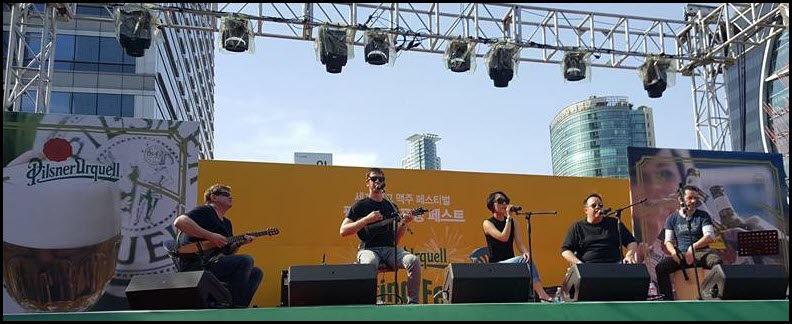 Over the years, I've bought and sold a few other guitars, and as recently as last week (May 17 to be exact), I traded in one such guitar, an Ibanez 7-string that never really grew one me, to get a lower price on a second-hand Steve Vai premium edition genuine (maybe) Ibanez JEM 77P guitar:

It's the most beautiful guitar I've ever played and owned. After barely a few days, I'd already played it more than that 7-string I off-loaded. In fact, I used it in a performance for the first time on Saturday, May 21, and it did a sterling job: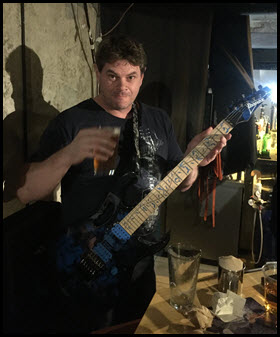 Last but not least, I'd like mention a couple of Nakwon personalities I've had the pleasure of meeting. Most of my guitars and equipment were purchased from Mr. Jeong of Sejong Musical Instruments. In addition to being a fine guitar player, he's very knowledgeable about the guitars and products he sells and is always ready to offer friendly and informed advice.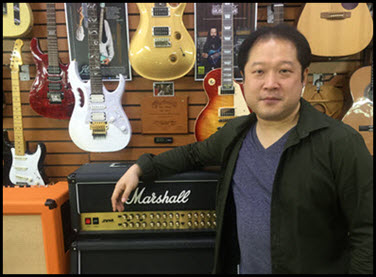 If I need some work done on my guitar that I am too lazy to do myself, like changing strings for example, or if I need something done that is beyond my skill set, guitar technician extraordinaire Kim Wan-seob is my man. It's reassuring to know there is someone I can rely on for minute or significant adjustments and procedures. If his positive attitude and permanent wry smile are any indication, he absolutely loves his job. His store is located on the second floor in room/position 157, which right in front of the cafe in the middle of Nakwon.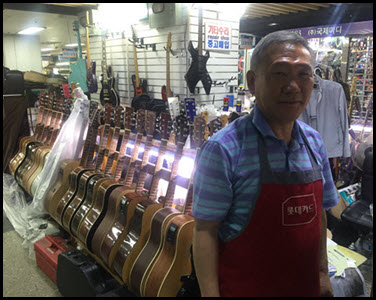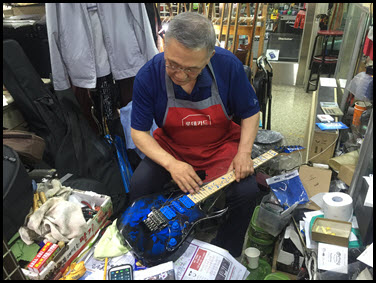 While music has been a life-long constant companion of mine both through the music I love listening to – I wrote over 6,000 words on the topic last month – and through the music that I am able to play on guitar and to a lesser extent on piano, music has never been a bigger part of my life than it has been over the past ten years of my Korean experience living in Daegu and Seoul.  Nakwon has been a big part of that decade. In good times and bad, my Nakwon-bought guitars and keyboards have been loyal and dear friends that can always be relied upon to provide escape from the stresses of life and joy out of thin air. Considering all the above musical memories, great friends, and most excellent times, I am especially honored, grateful, and excited to be one of the first musicians selected to be a Nakwon Supporter. Thank you, Nakwon.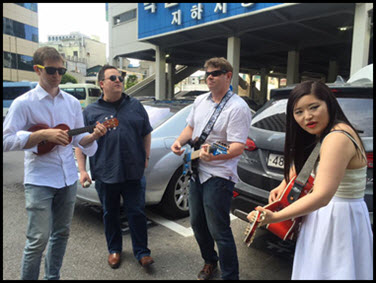 I'll end by saying thank you for the music, the songs I'm playing. Thanks for all the joy they're bringing. Who can live without it? I ask in all honesty. What would life be? Without a song or a dance, what are we? So I say thank you for the music. For giving it to me.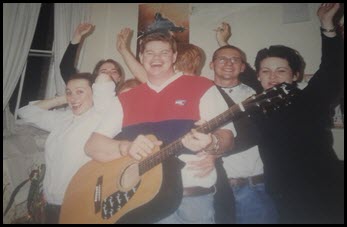 Comments
comments