I have always enjoyed watching buskers perform, and I have been fortunate enough over the years to have seen some amazing musicians, magicians, and performers – plus a few real weirdos of course – just by walking down the right (or wrong) street at the right (or wrong) time.
Even when their performances weren't exactly in line with my musical tastes, I respected the fact that they had the courage to share with complete and sometimes totally disinterested strangers the things they love doing. Regardless of the presence or absence of skills and talents, I was always envious of them and often imagined myself standing in their place, drawing a generous and huge crowd.
Despite that dream, I had never busked until the supportive and professional staff behind the Nakwon Supporters Program invited myself and my fellow 2Much band mates to do exactly that on Seoul's historic and famous Insadong Street right by Nakwon Music Mall.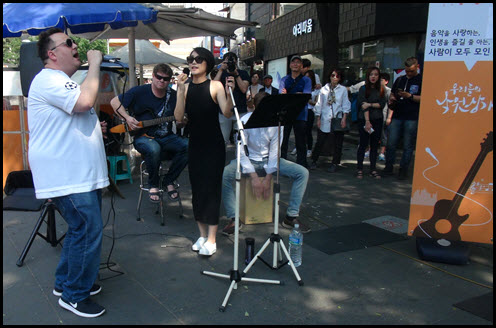 Saturday, May 28 was the big day.  Fellow Nakwon Supporter Mimi Roh started the afternoon's entertainment with her big red guitar and three songs: "Blank Space" by Taylor Swift and two of her own compositions: "Sparklin' Bright" and "Ponder The Sky". I really admire her for writing and performing her own songs.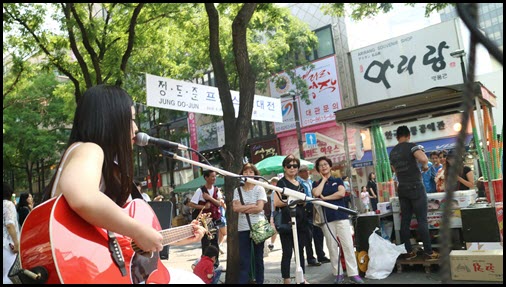 Even if I could write my own songs, performing them would be much, much scarier than performing well-known and much-loved hits. There's nothing hard about that at all once you learn the song, but performing your own song is, especially while busking, akin to sharing a part of your soul with a bunch of strangers. That takes more courage than I possess.
My apologies for not filming her set. I was distracted with getting ready for my set which immediately (like within seconds) followed hers, but I regret not taking the time to enjoy her performance. Luckily, there's a taste of "Sparklin' Bright" from that day on Facebook, and there lots of videos on her YouTube channel:
Ian Burgos, Liyuan "Maggie" Huang, Jake Botello, and I (Malcolm McLaughlin was busy that day – see below) then took center stage for our own three-song set.
"Every Breath You Take" by The Police was our first song. It's a personal favorite of mine because of its distinctive and very cool-sounding arpeggios. Plus, it's simply a great song. I've seen Sting twice in concert and both times "Every Breath You Take" was the highlight. Performing it is made all the more enjoyable by the combination of Ian and Maggie's sweet voices.
I need to look at my hands when I play the song (because of those finger-stretching arpeggios), but I remember looking up at one point and being happily surprised – shocked even – that quite a crowd had grown around us. My bucking dream had come true. 😉
Our second song was "Happy" by Pharrell Williams, and what a perfectly named song it is. It's not only a whole lot of fun to play, it never fails to get a huge response from our audience, and that more than doubles the fun.
We finished our set with a mash-up of Ritchie Valens' "La Bamba", which Ian always sings perfectly in his perfect Spanish, and "Twist and Shout" by The Beatles, which he sings in his equally perfect English. Our sets often end on those two songs as they leave both our audience and ourselves smiling. 😎
Surprisingly. our busking experience didn't end with out last song. Please keep watching the above video until the end as the totally unexpected highlight of the day occurred as we were packing up and getting ready to leave. Jake, however, wasn't quite ready to stop. He sat down for an impromptu performance of "Let It Go" from Frozen for a very special young lady: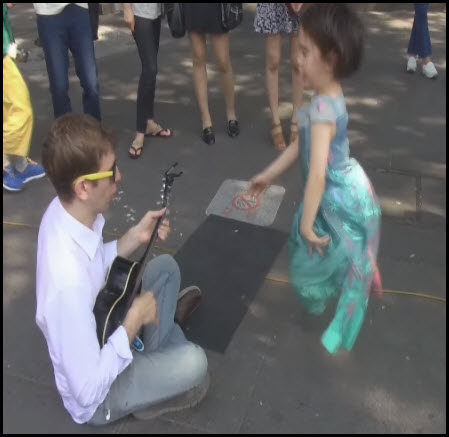 Meanwhile, in a photographer's studio across town, Malcolm had the perfect excuse for missing our busking debut: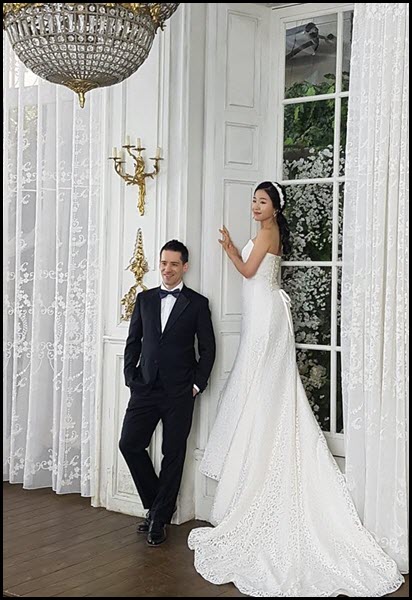 Malcolm and Yun-seon's wedding next month offers another musical first: the happy couple wisely invited 2Much to perform a few songs on their most special of days. Performing at their wedding is sure to be another highlight on this unique and fun musical journey we're all lucky enough to be on. No jeans and T-shirts for that gig, and that'll be another first.
Comments
comments