September 6, 2009: September started with a bang fitness-wise with several high intensity weights and cardio sessions, but with my studies starting next week (tomorrow actually) and extra classes to teach, maintaining regular exercise will require super-human feats of time management, strength, and courage. This page will be my companion and ultimately my judge: success or failure will be determined by the words that will fill up this page, and I promise not to lie.
I'll start with Monday, August 31 because that was a session worth immortalising with words. It was the last day of vacation. The end was nigh, and I wanted to make the most of it. I continued working towards my stated goals of more cardio and ab work. Eight-minute abs started me off, and then to the gym for the hardest legs session of my life, but that's not saying much because I hate exercising my legs. Then 20 minutes on the treadmill walking up a killer incline. I also threw in one set of push-ups because my chest was expecting a rest day, and I wanted to surprise it.
Wednesday, September 2: Back on my trusty exercise bike for a solid 25 km. In August, I travelled just over 200 km on exercise bikes in two different countries and I hope to beat that this month.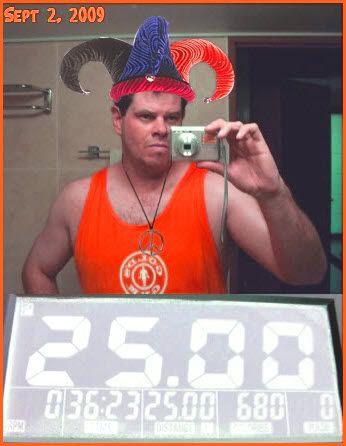 Thursday, September 3: Back to the gym for a weights session which included back, biceps, and abs. I bought my elastic exercise bands for the first time to add some variety to my back workout. I also had my push-up handle bars and I did one set just to keep my chest guessing. Then 35 minutes on the treadmill increasing the incline every 3 minutes and the speed every 5 minutes. A nice way to break up the time and it helped to keep me focused.
Friday, September 4: To the gym again for a chest, shoulders, and triceps workout. I ended that upper body session with a set of push ups using my handles and I really felt that across my chest, shoulders, and arms. That was followed by something new for me: a good stretch session which resulted in surprisingly stiff hamstrings the next day. I've never been very flexible, but from now on I hope to add stretching to most workouts.
Saturday, September 5: Back on my trusty exercise bike for a 35 km listening to the end of The Fellowship of the Ring soundtrack. From "Balin's Tomb" up until "Boromir's Death." It's been ages since I listened to Shore's Lord of the Rings scores. It felt good to expose myself to such great music again, and the narrative nature of the music really helped to pass the time. That's 60 km for the month so far.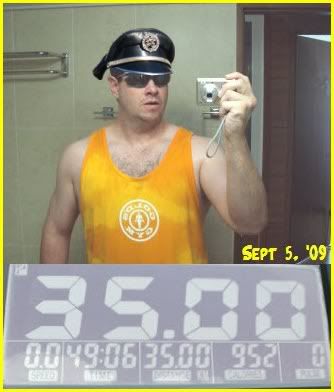 Sunday, September 6: Back in the gym – it's great to have a gym open on Sundays albeit twice a month. I started with a cardio session on the threadmill that lasted for almost 50 minutes and 5 km. I was totally spent after that and needed five minutes of lying on the ground doing light stretches before I could even think about doing any more exercise. When I did feel better, I got out my ad straps for the first real time and did 3 sets of leg raises 15 / 15 / 10. I still don't feel totally comfortable using them, but hopefully it'll grow on me as my strength increases. Before and during those sets I did a few sets of ab crunches and by the end I could really feel my lower abs tiring. Next two sets of side raises and I ended the session with a good stretch. I had planned on doing legs, but I had no energy at all by then.
Monday, September 7: My first evening gym session! I arrived around 9 p.m. curious to see what kind of crowd exercised at night and holy moly was it crowded! A couple of nice surprises: one ex-student and Professor Oh from Keimyung, whom I haven't seen in ages, were exercising along with me. I began with legs and then a different back workout. My lats were sore from the ab straps I used on Sunday, so I skipped pull-downs and straight into the exercises for the middle of the back: bent over raises (is that what they're called?) and then got out my elastic straps for rows and then a different exercise that worked the very center of my back. The muscle pain there the next day was a new experience for me. I also did some bicep curls and a pretty good forearm workout, but they weren't stiff the next day. I was pretty exhausted after that and promised myself at least 36 hours rest…
Wednesday, September 9: 7:30 p.m. Another home chest and shoulders workout. No triceps this time because I simply couldn't be bothered, but I hope to give them a workout soon, maybe tomorrow. Then another exercise bike session while watching Battlestar Galactica season 4's "The Oath" in which the mutiny really gets going. Very intense stuff! The 25 km travelled brings my monthly tally up to 85: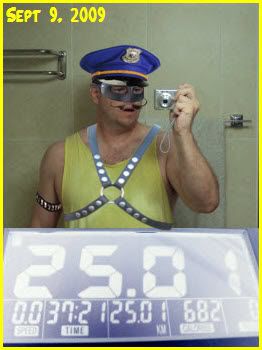 Friday, September 11: I felt the day get away from me. I planned a weights and cardio session at the gym, but never made it. I needed to do some exercise, otherwise I would go mad, so after an evening nap I hopped on my trusty exercise bike at 8:37 p.m. and did 20 km while watching The Empire Strikes Back. That's 105 km for the month so far.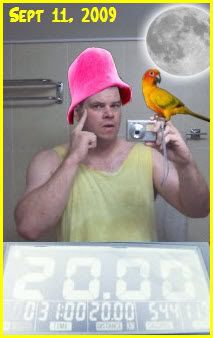 Saturday, September 12: I was back in the gym by 11:30 a.m. all set for a long, gruelling, and courageous workout. Next week sees a substantial increase in both my teaching hours and my class hours as a student, so I wanted a decent session to help me stay focused. Backs, traps, and biceps were exercised first, with my tension bands adding some variety to the back exercises. I also exercised my forearms; I love the pumped feeling I get after working those out, intensified by the low-fat content on that part of my body. Onto the treadmill next, and I wanted to give my recovering ankle a workout. I injured it on August 4, and it's yet to return to normal, but this week it felt a lot better, and there were days I wasn't aware of my ankle; a first since the injury. Six kilometers on the treadmill at just under an hour while listening to Williams' The Empire Strikes Back score, from "Starfleet Deployed" until the end of the film. It's been a while since I listened to some of those pieces and listening to them again felt like meeting an old friend after years of seperation. A most welcome visitor to my recently Williams-starved ears  After the treadmill session I did some leg stretches, a lower back workout, and a light leg workout. It was light because I was pretty worn out by then from the cardio workout.
Sunday, September 13: A late night (10:15 p.m.) session on my exercise bike. II travelled 20 km while watching Star Trek II: The Wrath of Khan, the best Star Trek movie ever. This isn't my real tongue: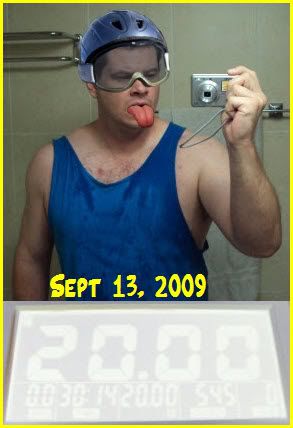 Tuesday, September 15: Another late night exercise session began around 11 p.m. This time chest, shoulders, and a litte bit of triceps followed by a Eight minutes abs and a light stretch while watching the season 2 finale of True Blood. I really felt I needed that session after two long days at work and a presentation earlier today. I have to give nnother presentation on Thursday, but that's going to be kind of fun. Hopefully, I'll be back in the gym Thursday evening after cleaning my apartment. At least that's the plan.
Thursday, September 17: I did indeed make it back to the gym as promised. A back and legs workout followed by 20 minutes on the treadmill:
Saturday, September 19: Back in the gym for a morning workout with my Japanese teacher to keep me company! Chest, shoulders, triceps, and core work followed by 22 minutes on the treadmill:
Sunday, September 20: Back on the bike for 30 km while watching a season 2 episode of Lost in Space, the one with the Scottish ghost:
Monday, September 21:   I got home from a 12-hour day and with work to do that night, I forced myself onto the bike. The idea was just do a solid 20 km, but I ended up going for it after a few minutes and I set a new 20 km world speed record. That was a sprint pretty much the whole way. I'm not real happy with the picture, but I was too tired to spend more time on it:
Tuesday, September 22: Prior to watching the season 4 premier of Heroes with Jeff, I cleaned my apartment and did a 20 minute ab workout. Eight minute abs plus exercies using one of the many cheap ab machines I've bought over the years. I often neglect my abs and tonight's workout was a most welcome change. Memo to self:  Work your abs by themselves.
Wednesday, September 23: To the gym in the afternoon between finishing my 11 a.m. class and the teachers' workshop at 4 p.m. Back, biceps and 22 minutes on the treadmill. That was one hell of a workout.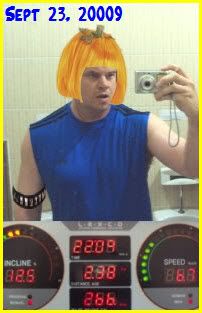 Thursday, September 24: To the gym at 6:40 p.m. for legs, chest, shoulders, and triceps. My shoulders were so sore, I feared my arms would fall off. I'm typing this a couple of hours after getting home, so I'm not sore yet… but I have a feeling I'll be very, very sore tomorrow. Great triceps workout as well. Overall I'd say that was my most intense weights session since embarking on this campaign. I did entertain thoughts of doing some cardio at home after the gym, but my body voted no.
Saturday, September 26: A two-hour gym session beginning with back, biceps, and wrists. A different workout for my back, this time less attention to the lats, and much more attention to the upper and middle of the back. My exercise bands came in handy for that and I believe that area of my back has never seen so much exertion. I hadn't done wrists for a good couple of weeks, so I took the opportunity today to really get them working. That all took about 50 minutes and then, after a short rest, I got back on the treadmill and did an hour listening to my Jerry Goldsmith playlist on random while watching  the last 40 minutes of Deep Rising on the TV attached to the treadmill. That was my first time using the treadmill's TV. I saved my lower back for last because exercising it leaves me totally drained and barely capable of movement: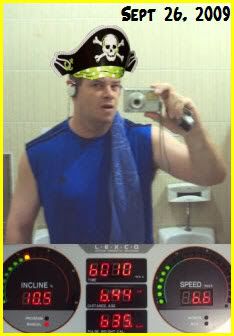 Sunday, September 27: An ab workout followed by 40 km on the bike watching two episodes of Curb Your Enthusiasm, a show I'm rather embarrassed and ashamed to say I only started watching a week ago. A light calf workout finished off my exercise for the day.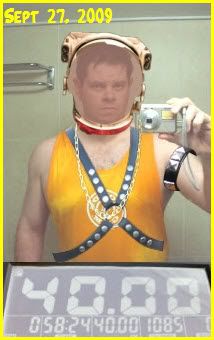 Tuesday, September 29: Just an ab workout in the evening. I received a flu shot earlier in the day and was told not to over-exercise. I took the opportunity to have a rare nap during the day. Nice, but why is it that whenever I take a nap, my phone rings?
Wednesday, September 30: My last exercise session for the month took place between 3 p.m. and 4:45 p.m. Legs, chest, shoulders, triceps and cardio to finish things off. 45 minutes on the treadmill, the last few almost almost killing me:
Comments
comments