Wednesday (August 1): Breakfast was camp lunch, and it was consumed  just under 17 hours since last night's last food.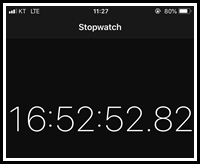 Wednesday/Thursday (July 1 & 2): A naughty ice-cream, gifts for students and staff,  was consumed after lunch. Then I had a black tea latte at around 5:15, and that was it for the day. I went to the gym for a quick 10-minute run, and then home. Now 11:10 pm, and I'm not feeling hungry. I made it untill summer camp lunch was served just a minute before 11:30.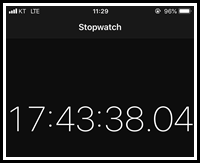 Thursday/Friday (August 2 & 3): After lunch all I had around dinner time was a protein shake and some dried mango. I am considering an evening weights session maybe. That didn't happen, but I did go another night without snacking. The only hiccup was that I accidentally stopped the fasting clock during the night. I broke my fast at about 11:45 am with lunch at a science museum with my students. The fast was 18.5 hours. Same length as the next day's, so I can use the same stopwatch screenshot.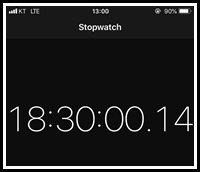 Friday/Saturday (August 3 & 4): I was offered and ate a mini snickers bar. Such a tiny delicious little thing. It was my first snack in quite a while if such a small thing counts as a snack. I finished dinner at 6:30 pm after a short gym session. I'm glad the regular 11:30 am lunch is on hiatus over the weekend. I'll try for longer fast. I exercised in the morning and my fast lasted 18.5 hours. It ended with a protein shake, some dried mango, and a peach tea to justify me using a cafe's WiFi. Dried mango and a peach tea are probably not the best choices, but I like the fact I broke my fast with what is essentially a snack as opposed to a full meal. I'll eat a decent meal for dinner. Another 18.5-hour fast.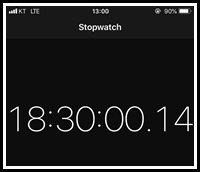 Saturday/Sunday (August 4 & 5): A sparkling was ordered at 3:30 for another cafe stint while I wait for my Teach North Korean Refugees student whom I'm meeting at 6:10.  Interlude: While I have yet to try a seriously long fast, I have developed a strategy to help extend my regular daily fasts when a set lunch time doesn't interfere. I call that strategy little survivable delays (LSD) or little manageable delays (LMD, but I prefer LSD.  The idea is a simple as delaying breaking my fast after some short activity be that a bus or subway ride, an errand to run, a TV show to watch, a chore to do, some guitar practice, some writing, or some reading. As I'm nearing the end of my fast, LSDs have been very helpful in extending my fasts anywhere from 15 minutes to a few hours. If I'm to attempt a fast well over 24 hours, that strategy will be a necessity. Back to my day: I had a Dr You yoghurt energy bar thing around 5 pm to keep me going until my 6 pm 2-hour appointment.  Strangely, I didn't feel particularly hungry after that, and the idea occurred to me to not eat. I resisted that because I am planning to try a longer fast starting from when this 9:15 pm dinner is history.
It's now 9:15 am, and I'm approaching 12 hours – I finished last night's dinner right on 9:30. My plan today is to stay home all day and spring clean, practice guitar, read, and watch a little Agents of SHIELD. I might be meeting a friend for dinner tonight, but that's not confirmed. if that doesn't happen, I'll try for my longest fast ever. Writing every couple of hours might help me get accomplish that. It's now 1:43 pm and I'm 16:16 into my fast. That's another 16-hour fast under my belt, but I want to extend it. Easier said that done, because a yummy chocolate flavored protein shake with some coffee is calling me. I'll do some spring cleaning first and see how I feel after that. I made it to 19 hours and 14 minutes. My fast broken by a protein shake and a sachet of nuts.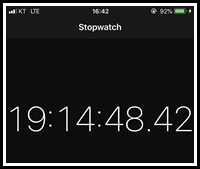 Sunday/Monday (August 5 & 6): Dinner was consumed soon after and it consisted of a green tea latte and a bagel egg sandwich. Once again, there was no late night snacking. I'm up at 6 am, and my fast is a little over 12 hours old. Considering a quick visit to the gym before work. That I did, and then breakfast happened just on 11:30 am: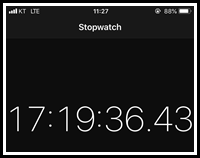 Monday/Tuesday (August 6 & 7): An ice cream followed as I promised my students ice creams after lunch, and I couldn't not participate. Dinner was history by about 5:20 pm. Again, no late night snacking – falling asleep pretty early helped with that. Made it easily enough to lunch the next on Tuesday.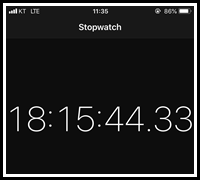 Tuesday/Wednesday (August 7 & 8): Dinner was a decent sized Chimichanga, and that was it for the night. It's now 10:30 pm, and sleep is more desirable than something yummy. Made it to lunch on Wednesday no problem: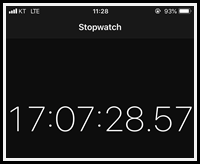 Wednesday/Thursday (August 8 & 9): I snacked a little after lunch, but I avoided a large dinner.A chocolate milk was a necessity after a spicy lunch, and then a mini sachet of M&Ms which was a gift from a student could not be refused. I had a small sachet of nuts on the way home in a taxi, and then I ended Wednesday's eating window with a black tea latte and a small banana muffin.  I got up early on Thursday morning and am about to head to the gym. My fast is at the 13.5-hour mark, so I'll easily surpass 16 hours again. I had an Americano after my workout and just before work which may have technically broken my fast, but I can live with that. First food consumed was around 11:30 am again at the kid's camp's free provided lunch.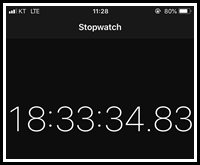 Thursday/Friday (August 9 & 10):  I had a few small snacks at work with my students, but the fasting clock started earlier at 4:40 pm after a small mandu dinner straight after work. A quick cardio session before the last day of camp, and then I broke my fast with a sachet of nuts about 20 minutes before the free pizza arrived.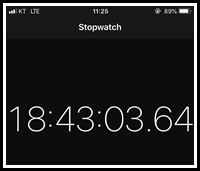 Friday/Saturday (August 10 & 11): Dinner was chicken and two small cans of lemonade with the boss and a few coworkers to mark the end of camp. Everyone drank beer, but I resisted. I made it through the night again, and my fast was broken after about 16.5 hours after dinner. That actually didn't feel like a fast, and it was only broken because I attended Jacco's birthday pancake brunch.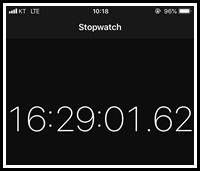 Saturday/Sunday (August 11 & 12): I had a raspberry tea while I  reorganized sorted my solo guitar sheet music collection, read, replied to some emails, and updated a few things on my site. I'm hoping to consume Saturday's last calories pretty early and to endure a longer than usual fast.  A protein shake and some chocolate was consumed after a weights session. It's now just after 4 pm and I'm having a green tea latte and a sachet of nuts. And that should be it for the day. Thus, at 4:20 pm, the fasting clock began again. Can I set a world record? Ending the eating day earlier and with a snack made this fast harder. I certainly could have eaten a decent size meal around midnight. I resisted though, and when I woke up, I felt much less hungry. It's now 8:21 am; the 16-hour mark was just passed. I'm feeling pretty hungry! A protein shake with a dash of coffee and a few crackers ended my fast at exactly the 17-hour mark.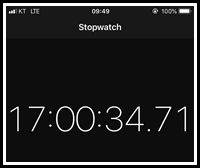 Sunday/Monday (August 12 & 13): Lunch was simply a sachet of nuts and a banana/avocado/ spinach smoothie. By the time I had dinner soon after 5 pm, I was starving as I had earlier walked 10 kilometres in the heat. The fasting clock started again a little after 5:30 pm. I walked another six kilometres in the evening, and another four in the morning before I broke my fast after 16 hours and 36 minutes. Had a little over-night problem with my fasting clock – I bumped it while checking it at around the 7 hour mark which was around 12:30 am.  Breakfast was Starbucks, and I'm using its free wifi to type this sentence.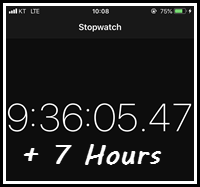 Monday/Tuesday (August 13 & 14): I finished eating for the day at 4:40, but I wasn't all that happy with what I ate – the last thing consumed was a delicious ice cream!  I keep promising myself a longer fast, but it hasn't been happening. On the bright side, fasting for 16 hours is starting to feel normal. I made it through the night, and I visited the gym in the morning where I recorded my lowest ever weight – under 89! After some weights, I breakfasted after a 18.5-hour fast. When I ate, it felt deserved and it tasted great!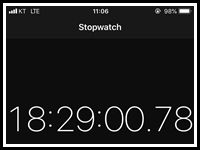 Tuesday/Wednesday (August 14 & 15): My breakfast was pretty big, so I'm hoping to just have a light meal in the evening as well as plenty of fluids throughout the day. Dinner was really just a few snacks spread out over about 30 minutes, finishing at 4:50 pm. Those snacks were some dried mango, a sachet of nuts, a bio organic nougat bar, and a green tea latte. Quite a lot of riding of my newly resurrected bike followed, so a snack or a meal was on my mind before bed. I resisted though, and now it's 8:40 am Wednesday morning and the 16-hour mark is only minutes away. A little later, I decided a chocolate and coffee flavored protein shake was in order.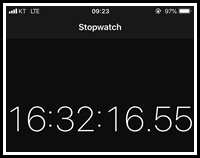 Wednesday/Thursday (August 15 & 16):  After some exercise, I consumed a nice hot lemon tea. It's now 2:30 pm, so not a lot has been consumed in the last 22 hours. I feel OK though, but I'm also feeling ready for a meal. A chicken avocado wrap was the solution, and then a little later I ended the days eating with some drinking yoghurt and a bit of chocolate. It's now almost 9 am, and I've already passed the 16-hour mark. Currently drinking a green tea ahead of some extra work that just came up. Was thinking of a couple of days at a beach, but with this extra work and the TNKR speech contest next week, it's hard to get out of Seoul. Not feeling particularly hungry, so I should be able to drag out this fast a while longer. I made it to 19 hours, breaking my fast with a snack about an hour before lunch.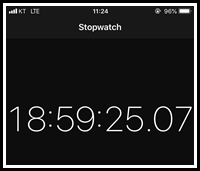 Thursday/Friday (August 16 & 17): My lunch wasn't so big, but I had an unnecessary mint chocolate latte with cream. Dinner will be small though as I already bought it – an egg sandwich, and it was consumed before 4 pm. Made it the rest of the day and night without eating except for one small potato chip. Made it through the night easily enough because I was so tired. I broke my fast after midday and after 21 hours.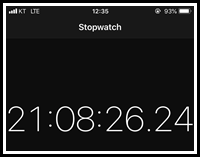 Friday/Saturday (August 17 & 18): I couldn't refuse a couple of snacks in the late afternoon that were gifts from young kids. I finished the day's eating with a latte and a cookie just after 5 pm.  Breakfast followed 19 hours and 12 minutes later:
Saturday/Sunday (August 18 & 19): After a gym session, I only consumed a protein shake and two small bars (a fiber muesli one and a coconut ricey one). I finished eating just before 5 pm. I felt hungry when I went to bed – or at least I could have eaten something. But now that morning has arrived and the 16-hour mark is almost here, I don't feel as hungry and am sure I can go another few hours at least without eating. The difference this morning is that I'm taking my newly revived bike to the Han River. I stopped for an Americano after a 55-minute ride. Killing time in a quiet and near-empty cafe reading, working on my site, and watching Outlander. The fasting clock is now at 20:44. I rode home a little later, completing a two-hour ride, and then it was time to eat: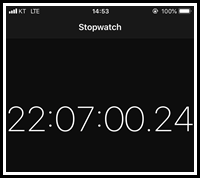 Sunday/Monday (August 19 & 20): It's 6 pm and I don't feel particularly hungry, but I want to get some reading done in a local cafe, so I'll go out for a latte and perhaps a small snack. I'm hoping to get up early and be at the gym soon after 6, but that'll most probably not happen. And it didn't, but that's OK.  I just had a morning Americano, and my fast just passed the 14-hour mark. I'd like to eat to be honest, but I can wait until lunch. Which I did; thus, ending my fast just shy of 18 hours.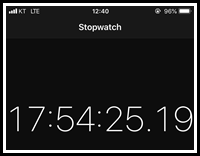 Monday/Tuesday (August 20 & 21): I was tempted to go crazy and have Burger King for dinner, but sanity prevailed and I opted for a subway.  A green tea latte ended the day's consumption at 7:50 pm. I feel like I've eaten a lot today. Well, certainly more than yesterday. I exercised less too – just one set of side raises at home, and  I doubt I'll find time to exercise tomorrow as well. Late night snacking is I think a thing of the past. It's now Tuesday morning, and I'm having an Americano, but I'd much rather be drinking a sweet latte.  The fasting clock just passed 13 hours. Breakfast and lunch ended my fast after 16 hours and 50 minutes.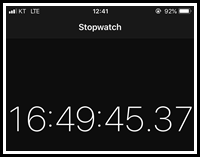 Tuesday/Wednesday (August 21 & 22): A mint mocha latte was mine soon after lunch, and it's now almost 3 pm. Feeling full from it and my earlier lunch/breakfast. I think I can end the day with something smallish and try a longer fast tomorrow. Lots of errands to run tomorrow, so being on the move with a few things to do should help me get through most of the day without eating, at least in theory. Dinner was a small ham, cheese, and tomato sandwich (half a sandwich really) and a green tea latte. The all disappeared from view at about 6:45 pm, and then the fasting timer started again. My morning latte was begun just before midday as my fast passed the 17-hour mark. I have a meeting at 1 pm, and then I plan to get a haircut. If I can make it back to my neighbourhood after that – there's some travelling involved – I'll be on my way to a fairly long fast. I skipped the haircut, but I made it to the gym on an empty stomach (I think that's a good thing), and then I couldn't resist a protein shake at soon after 4 pm with my fast lasting 21 hours and 35 minutes.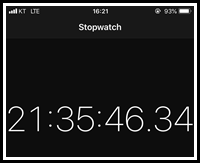 Wednesday/Thursday (August 22 & 23): A chicken avocado wrap and a green tea latte followed soon after, and that should be my only meal of the day. It was. Cardio in the morning, and my fast was broken soon after 1:30 pm, and that was a 20 hour 38 minute fast.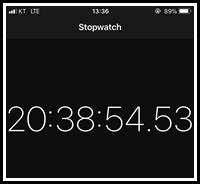 Thursday/Friday (August 23 & 24): A little later, I had a protein shake and some naughty chocolate mango things which have been sitting in my fridge since I got back from home via Malaysia last month. I started my fast a little earlier than usual at about 3:25 pm. This evening could be difficult. It's 11:46 pm, and I could sure eat a meal. Sleep thankfully saved me from temptation, and when I woke up in the morning, I didn't feel particularly hungry. Because my fast started earlier the 16-hour mark was passed soon after I woke up. My fast has now been going on for 19.5 hours, and I'll break it pretty soon. I decided to eat before going to the gym today. Twenty hours and sixteen minutes was enough, so it was time to eat.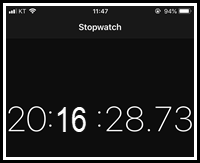 Friday/Saturday (August 24 & 25):  My plan for Thursday is a protein shake after an afternoon weights session, and then a light meal mandu (Korean dumplings) to be consumed later than usual ahead of tomorrow when I plan to first eat after the TNKR speech contest. The weights session took place, and the predicted chocolate protein shake was consumed as much for its taste as for its protein.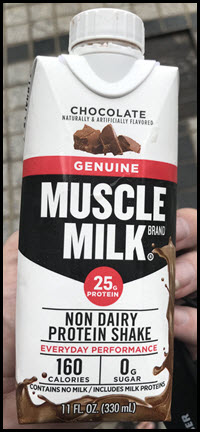 Now. I'm having a low calorie lemon tea while I do stuff with my MacBook. Dinner was not huge – the previously mentioned dumplings, and it was down the hatch by around 5 pm. It's morning now and the 16-hour mark is almost here. The plan is for some cardio and core work at my gym, and then maybe breakfast or I may delay it. I'll see how I feel after exercising. My gym planned changed to just weights, and now I'm going to break my fast at 17 hours and 54 minutes.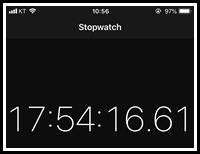 Saturday/Sunday (August 25 & 26): Dinner after the TNKR speech contest was a feast of Chinese food. That was the most I've eaten in a single sitting in a while, perhaps since mum's 80th birthday? A little later, just after 7:30 pm, I had a hot white chocolate. My fast then began, and because I had a lot and drank that hot white chocolate, tomorrow's fast should be a long one. I hate this feeling of being really full and bloated. In other news, three friends have recently noticed I've lost weight, so don't go off the rails now. I still have about 6 or 7 kilograms to lose. After that white hot chocolate, I walked about 10 kilometers. I made it until after  4 pm Sunday afternoon thanks in part to a totally lazy morning and afternoon at home. The fast lasted 20 hours and 39 minutes, and it was broken with a pretty small meal – a cafe latte and a bagel with cream cheese.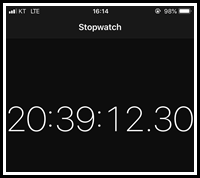 Sunday/Monday (August 26 & 27): Sunday's second meal was consumed in a bar. I passed on alcohol but had a Coke instead. It's been a while since I've had Coke – it is a drink I try to avoid. It helped wash down a very juicy hamburger and chips/fries. Not the healthiest of meals, but it was delicious and still consuming far less calories per day that I used to. The fasting clock started again at around 9:30 pm, later than usual. It's now almost midday, and I would like to eat now, but I'll wait it out. I'm still at home enjoying one of the last lazy days of the summer vacation. I thought about going to work today to get ready for the upcoming semester which starts next Monday, but I can do that tomorrow or Wednesday. Just after 16 hours, I decided that was enough, and I consumed a protein shake and a little bit of chocolate. I don't think I'm doing this right. Still, not a whole lot of calories consumed. I could have eaten healthier though.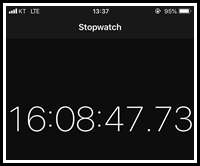 Monday/Tuesday (August 27 & 28): Dinner was a panini and a latte, and it was all gone around 6:30 pm. I'm near my gym and am considering a quick weights session. Weights session completed, and I again didn't snack at night. Fast completed after 18 hours and 8 minutes.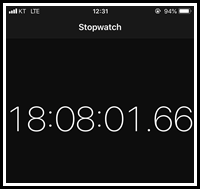 Tuesday/Wednesday (August 28 & 29): A green tea latte before a gym visit and then dinner was gone before 6 pm.  It's time for a longer fast, maybe. It's 10 am, and the 16-hour mark has been successfully passed again. The plan is to go to the gym shortly for a weights session, then I'll see how long I can make this fast last. I went to the gym as planned and then walked for about an hour. I'm now at a cafe with an Americano and my fast just passed the 19-hour mark. I also recorded my lowest in well over a decade this morning. Someone else, the fourth, noticed yesterday. Yay. The good people are Jason, Paul, Jack, and James. I made it to 22 hours and 37 minutes. Now it is definitely time to eat.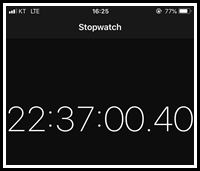 Wednesday/Thursday (August 29 & 30): No more food on Wednesday passed my lips. Breakfast on Thursday consisted of a cafe latte and a yummy protein bar which broke a fast of 17 hours and 26 minutes.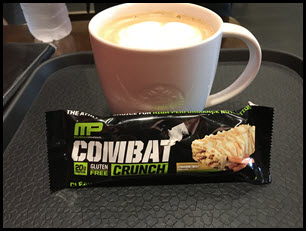 Thursday/Friday (August 30 & 31): Lunch was another latte, black tea this time, and a small cookie. Dinner was a burger and fries at a Mexican restaurant. Down the hatch by around 7 pm and the fasting clock started again. I walked about 5 kilometers early Friday afternoon before breaking my 18 hour 25 minute fast with some banana pancakes and honey butter.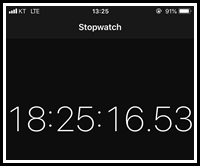 Rest of Friday, August 31: I'm having a green tea latte now (2:35 pm) while I do some internet stuff. I bought a protein bar earlier. I'm hoping that will be all I consume for the rest of the day, week, and month. We shall see. The protein bar was consumed after a pretty intense gym session, and the fasting clock began again for the last time this month at 5:30 pm. Almost 8 pm, and I'm pretty sure I can get through the night. For the record, I lost around 3 kilograms over the month.
Fasts in Order of Length:
16:08
16:29
16:32
16:36
16:49
16:52
17:00
17:07
17:19
17:26
17:43
17:54
17:54
18:08
18:15
18:25
18:29
18:30
18:30
18:33
18:43
18:59
19:12
19:14
20:16
20:38
20:39
21:08
21:35
22:07
22:37
Average Fast: 18:33
Comments
comments