Friday, December 1: It's now almost 2 pm. I have a few errands to run, and then I must go to the gym. I will go to the gym … If I can remember where it is. I didn't go to the gym.
Saturday, December 2: Likewise.
Sunday, December 3: No exercise, but I cleaned my apartment if that counts. A productive day overall, albeit one without exercise.
Monday, December 4: Finally! Up early after a good night's sleep and back in the gym just after 7 am. Sixteen treadmill minutes – I definiately felt the inevitable loss of fitness. Then a light core, calves, and forearms workout. It great to be exercising again. Memo to self: Keep it up this time!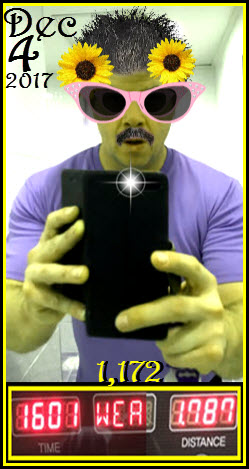 Tuesday, December 5: Made it to the gym two days in a row, and they were both early morning workouts. Just treadmill this morning – 19 minutes worth.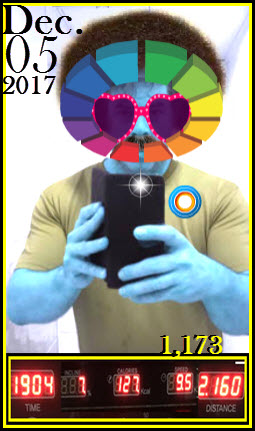 Wednesday, December 6: Too busy to exercise.
Thursday, December 7: Ditto.
Friday, December 8: Likewise.
Saturday, December 9: Back in the gym for a much-needed workout: 25 minutes of weights (back, lats, biceps, forearms, sides, and lower back) followed immediately by ten short but steep treadmill minutes.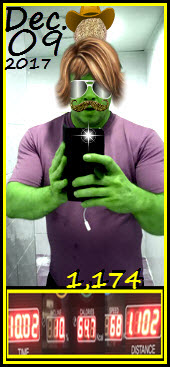 Sunday, Dec. 10 – Friday, Dec. 15: Another break due to finishing up the teaching semester, some cult happenings, and Star Wars.
Saturday, December 16: Back to work with a light chest, shoulders, triceps, traps, and calves workout followed by 14 treadmill minutes that ended with a burst at speed that perhaps could be generously described as a sprint.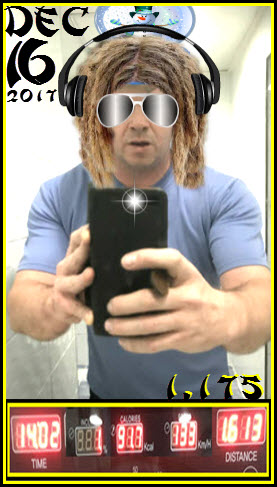 Sunday, December 17: My gym is closed, and it's too cold to go for a swim – I don't care how warm it is inside. My busiest teaching semester in quite a while is over, so from tomorrow it's all systems go. I shall make it so.
Monday, December 18: Just another short cardio session. My goals were simply to make it to he gym, sweat a little, and then get out as quickly as possible. Mission accomplished!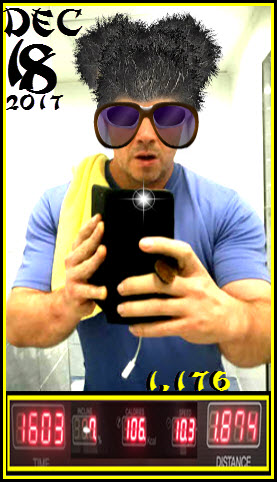 Tuesday, Dec. 19 – Friday Dec. 22: Another few days without exercise.
Saturday, December 23: Just 15 minutes of cardio as that's all I had time for.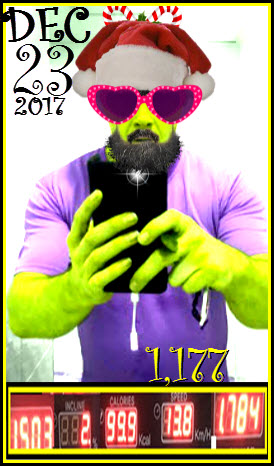 Sunday, December 24: A day of pre-Christmas resting  following a bit of a party Saturday night and preceding another party Sunday night. I abstained from the booze on Sunday night after partaking on Saturday night. That sacrifice enabled me to exercise the next day. 
Monday, December 25: An unusually active Christmas Day with 17 cardio minutes on my favorite treadmill and I walked 14 kilometers throughout the afternoon and evening.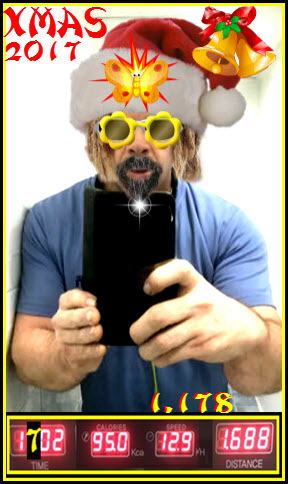 Tuesday, Dec. 26 – Thursday, Dec. 28: An extra winter class kept from the gym.
Friday, December 29: I walked 16 kilometers after work if that counts.
Saturday, December 30: I walked 14 kilometers if that counts.
Sunday, December 31: I walked 15 kilometers if that counts. And thus ends a year that included 167 cardio sessions, yet ended on a whimper. Can I regain my exercising mojo in 2018?
Comments
comments